Throughout the Fire Cadet Program, our Cadets participate in work rotations in the various bureaus that encompass the FDNY. These rotations help ensure the Cadets become familiar with all operations of the Department, to better prepare them as future first responders.
For Hispanic Heritage Month, join us in learning more about three Fire Cadets who have completed their first work rotations. Hear how their cultural upbringing influenced them to jumpstart their careers with the FDNY.
Meet Fire Cadet Jose Luis Soto

"My family came to the States from Mexico about 25 years ago, and my decision to become part of the FDNY was heavily influenced by them. They came here for better opportunities and this is my chance to prove to them that their efforts were worth it," said Fire Cadet Jose Luis Soto.
Soto is a native of Sunset Park, Brooklyn, and has completed his first round of work rotation with the Fire Safety Education Unit at Fort Totten.
"My experience so far with FSE has been enlightening and motivational," Soto explained. "Throughout my time here I have been able to conduct engaging conversations with the community and receive advice from all levels of members within this Department as I begin what I hope is a long career with the FDNY."
"It feels good to be recognized during Hispanic Heritage Month, knowing that without my family's choice to come here I may not have had this opportunity," Soto added. "I think one of the best parts of working here is that no matter where we come from, we always strive to understand one another and work together to achieve the main goal which is provide the highest level of care to the people of this city."
Meet Fire Cadet Angel Neira Tueni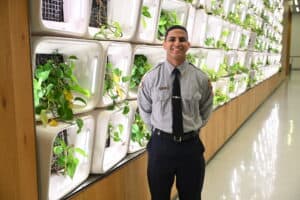 "One of the reasons I want to become a New York City Firefighter is because it is one of the few jobs where you are able to see the direct impact your performance has on others. You are trusted to do your job at the hardest times and there is a strong sense of pride that comes with that," said Fire Cadet Angel Neira Tueni.
Tueni is a Bronx native, born in the Dominican Republic before moving to New York at the age of 7.
"I do not come from a family of firefighters, which serves as the main inspiration for me to continue with this career path," Tueni explained. "I have many personal goals for my career in the FDNY. Along with having a long career helping others and making a good positive impact in the community that I am in, I want to show my family that they can see me as a positive role model and  motivate them to go for whatever they may want in life."
"Working here at PSAC 2 has really broadened my perspective on the multiple careers the FDNY offers," said Tueni, who has completed his first round of work rotation at PSAC 2, our Public Safety Answering Center located in The Bronx. "Before joining the Fire Cadet Program, I did not know the importance of communication between 911 dispatchers and emergency personnel during any particular call. You get to see firsthand how the Department as a whole works as a team and it's a blessing to see how people take care of each other In a selfless way every day. It feels like a long extended family and I am thankful to be in this Department."
Meet Fire Cadet Felix Espinal Jr.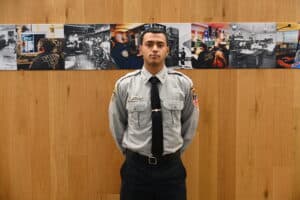 "My goal coming into the Fire Cadet Program is to gain as much experience I can in assisting the public in the best way possible to become a successful Firefighter one day," said Fire Cadet Felix Espinal Jr.
Born and raised in Brooklyn, his family is from the Dominican Republic. Espinal credits his uncle (IS HE A FF OR AN EMT? WE SHOULD SAY THAT) who has dedicated his life to the FDNY for over 20 years for his decision to apply for the Fire Cadet Program.
Along with Fire Cadet Angel Neira Tueni, Felix also completed his first round of work rotation at PSAC 2, our Public Safety Answering Center, located in The Bronx.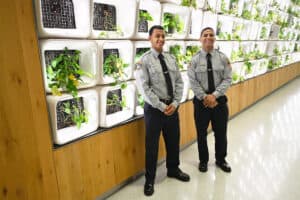 "From the moment I started working here up until my last, seeing how efficient the line of communication is between the public and all of our staff has been very eye opening," Espinal recalled. "I admire the way the communications team works as a whole to handle situations that occur from one minute to the next. From answering phone calls from the public, to sending out the runs to firehouses and communicating with the companies giving them additional information, the experience overall has been amazing."
"It feels good to know I can work with different cultures and know that I am not the only person with different morals and values," Espinal added. "I love learning about how other cultures adapt to current events and how we as a whole can make a difference just by being diverse. Being able to embrace myself as a Hispanic individual makes the Department even better because we treat each other as family, which is something Hispanic families and many others do on a daily basis."
To learn more about the Fire Cadet Academy, visit here.