It's Father's Day 2018 and we're pausing to say thank you to our awesome FDNY dads who continue to inspire their children through their bravery, leadership, selflessness and so much more.
EMT William Portela and his son EMT Robert Portela
Family man, rock star, best friend and hero are some of the nouns that Station 20 EMT Robert Portela used to describe his father, Station 20 EMT William Portela. As a father himself, Robert said, he values the important role that dads play in the lives of their children. In addition, Robert became inspired to join EMS, because he admired his father's passion for helping others.
"Working in EMS is a unique career, because you never know what to expect and every day is something different and I really enjoy it. We're out here each day taking care of our patients, treating them like we would want our loved ones treated during emergencies and we're really making a difference in the community," said the Bronx native, who has been serving our Department for almost six years. "My dad is a rock star when it comes to being a father. It takes a true man to step forward and really love, support and guide their children in life and he has done all of that for me. He's a great man and he's always helping me in my personal life and with my career. He's my dad, but he's also my best friend."
"I really enjoy helping people and that's why I love working in EMS. This career has helped me put a roof over my head, provide medical coverage for myself and my family and really allowed me to take care of business in my life in many ways," added William, who is a 32-year veteran in our Department. "Now, I have my son Robert working here with me and that's really special. I love my son, he's a hard worker, a respectful young man and I'm happy he has dedicated himself to helping the public."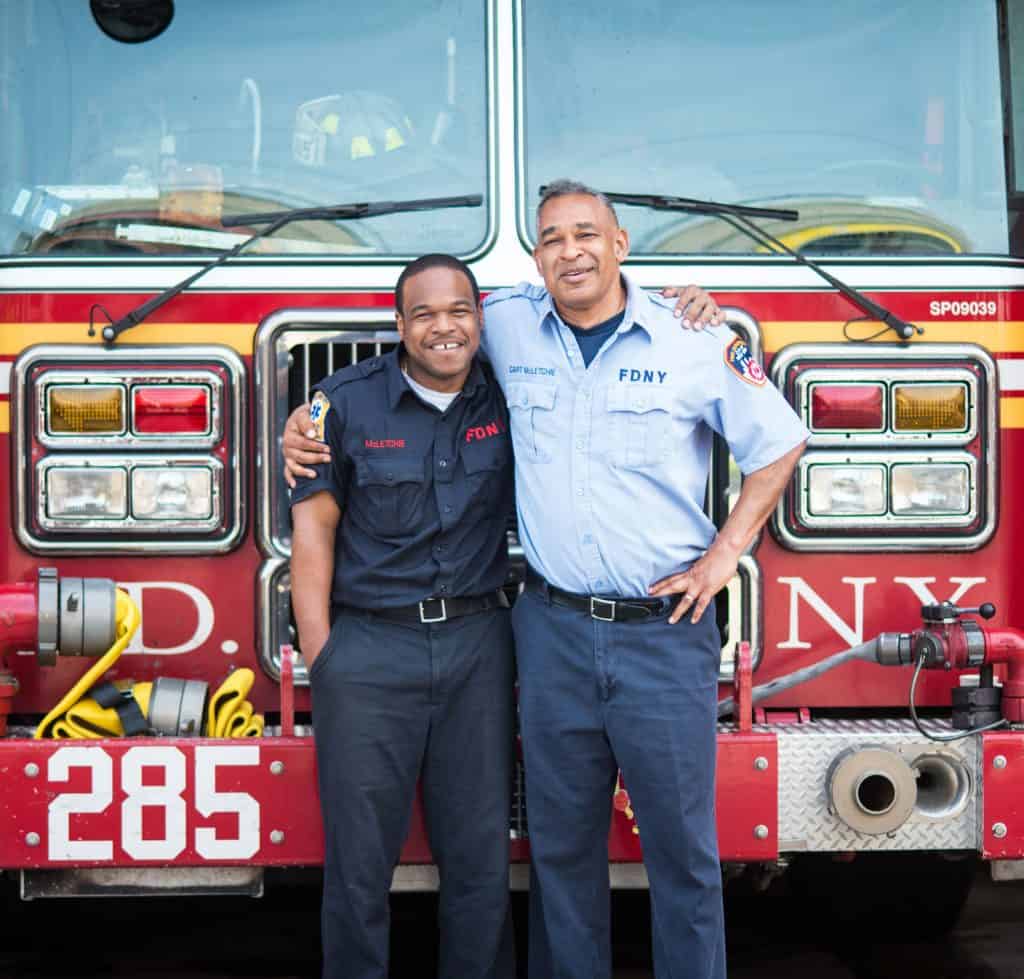 Captain Gregory McLetchie and his son Probationary Firefighter Ishma McLetchie
For Engine 285 Probationary Firefighter Ishma McLetchie, joining the FDNY has always been his dream because he grew up watching his dad, Division 14 Captain Gregory McLetchie, working in the firehouse. Ishma, who graduated from our Fire Academy this past April, also served as one of our EMTs for almost five years.
"Working in this career has been great so far, I'm in a great firehouse and I'm learning a lot, which is always important," the Queens native said. "I think joining this Department was always the plan for me growing up, because I always knew I wanted to help the community like my dad. I know a lot of fathers and my dad is a great one. He's the guy I want to be like in a lot of ways, because he's just an amazing person. He's taught me so much in life whether it's big or small life lessons and I'm glad to be working here and following in his footsteps."
"This career is like no other, because you're helping people and you work with people who become like family in a lot of ways and to see my son Ishma working here now makes me really proud," added Captain McLetchie, who is a 30-year veteran in our Department. "Ever since my son was young, I always saw that he had a lot of humility and he always liked to help people. As he started to get older, I knew he would eventually join this Department, because he has a positive attitude, he's respectful and his heart is in the right place."