Our celebration of Black History Month continues today with a spotlight on some of our chiefs in EMS. These members have served the FDNY for many years with commitment, courage and distinction, while continuing to advance their career in the busiest, most-highly skilled EMS in the country. We thank them today and every day for their passion to help others, as well as for inspiring the next generation to become a high-ranking officer in our Department. Read more about them below.

Chief of EMS Michael Fields
When he was appointed this past December, Chief of EMS Michael Fields made history as the first Black man to advance his career to our Department's highest EMS rank. Fields, a 28-year FDNY veteran, oversees more than 4,000 Emergency Medical Technicians, Paramedics, EMS Officers and civilian employees in our EMS Bureau.
"I have had the pleasure of serving in EMS across a wide range of this Department, responding to urgent calls for help from my fellow New Yorkers, providing critical emergency medical care, and leading our extraordinary EMTs and Paramedics in commands across the city," the Chief said. "EMS has been my life's work and I'm honored and beyond excited to serve as the Chief of the busiest and very best Emergency Medical Service in the world."
Read more about our top-ranking officer in EMS today by clicking here.

Division Chief Cheryl Middleton
"As one of only two African American women to reach the rank of Division Chief within the FDNY, I see myself as standing on the shoulders of those women of color who came before me, but were never recognized for promotion above the level of Captain. They did not have the opportunities that I've been afforded and I see it as my responsibility to use my experience to mentor those around me and provide the tools needed as they go forward and upward," said Middleton, a 34-year FDNY veteran, who leads our Mental Health Response Unit/Behavorial Health Emergency Assistance Response Division (B-HEARD) in Brooklyn. "My advice to those who are looking to join FDNY EMS is: Do it! FDNY EMS offers the potential for a rewarding career and the ability to meet and work with some amazing people."

Division Chief Tonya Boyd
"I am incredibly proud to be a part of history in the FDNY. I believe in hard work and striving to achieve to the best of my ability. Never did I imagine that I would be a part of history with the greatest Department in the world," said Boyd, a 26-year FDNY veteran, who leads our Emergency Medical Dispatch-PSAC 1 in Brooklyn. "I am so humble and grateful for the experiences and opportunities obtained throughout my career. I feel compelled to inspire anyone who is interested in rising in the ranks or even joining the FDNY family. There is no better gratification. My advice to anyone looking to join FDNY EMS is to work hard for what you want. Figure out what motivates you. Protect your integrity. Don't let your weaknesses define you. Focus on your strengths and achieve your goals. This can be an amazing opportunity."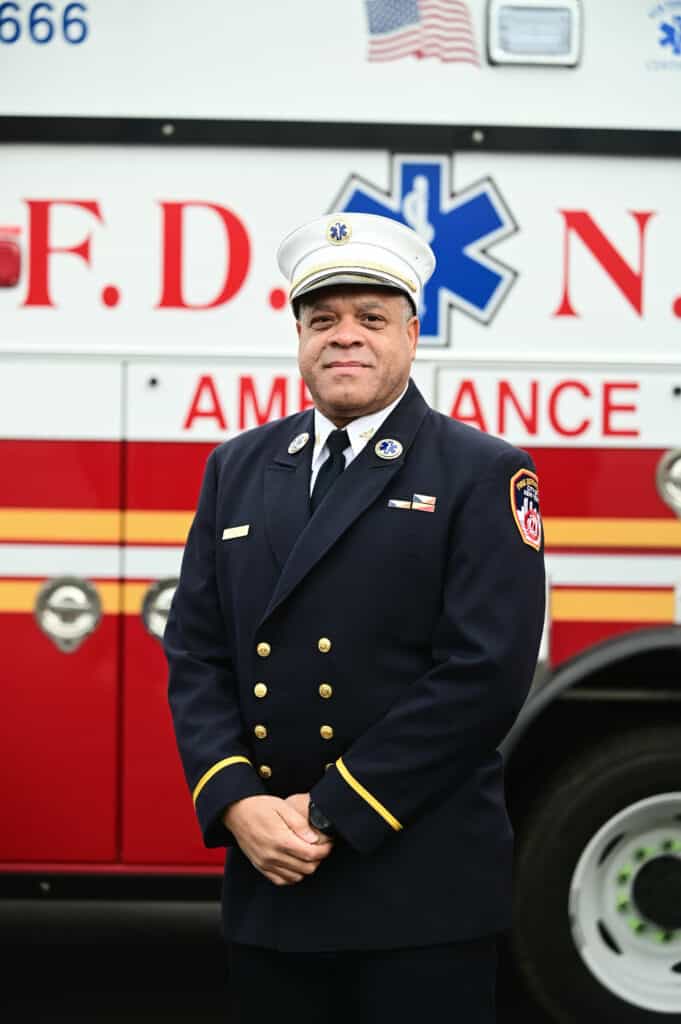 Deputy Chief Terrance Middleton
"First and foremost, I am honored to be part of history and to be associated with this talented group of EMS leaders. As leaders we must always lead by example and continue to pave the way to ensure our future leaders see and reach their full potential," said Middleton, a 35-year FDNY veteran who serves in our Division 1 Manhattan South. "Becoming an EMT or Paramedic or Officer for an agency that is responsible for providing pre-hospital care to a city with eight million people will sometimes be exciting and challenging, but mostly rewarding."

Deputy Chief Horace Williams
"Throughout my career here, I feel like we have made great progress among African American leadership in the FDNY. It feels good to be part of the result of the growth that this Department has established," said Williams, a 31-year FDNY veteran, who serves in our Division 4 Queens East. "FDNY EMS provides a great opportunity to not only learn a new set of skills, but to also see what is really going on in the community and make a difference by doing the right thing. For those looking to join, remember every day here is unexpected and it brings a new level of advancement towards your career and your life."

Deputy Chief Arlene Simmons
"There is a strong sense of pride I feel whenever I wake up and go to work as an EMS Deputy Chief. The resources and specialty training that is available in FDNY EMS is unparalleled. It is so much more than treating and transporting patients. It is an exciting and rewarding career where no two days are the same," said Simmons, a 29-year FDNY veteran, who serves in our Division 7 Bronx North. "I am proud to be a part of this historic and pivotal time in EMS. I'd like to pay homage to the Chiefs who have paved the way, making it possible for me to be a Deputy Chief in this Department. I'm extremely proud of Chief Michael Fields' accomplishment as the first African American Chief of FDNY EMS Command. I'm excited to serve in his administration. This is the beginning of more diversity and inclusion within the superior ranks of EMS officers."

Deputy Chief Renae Mascol
"It is an honor and privilege to be one of the few African American females in the rank of Deputy Chief in FDNY EMS. I truly believe that 'you cannot be what you don't see' and I believe that because of my position, other African American young ladies can aspire to be where I am. I stay in the field, I stay visible, and I try to meet as many people as I can in the community in order to build bridges between the FDNY and the communities that we serve. My hope is that when they see me, they see someone they can trust," said Mascol, a 28-year FDNY veteran who serves in our Division 6 Manhattan North. "My advice to those looking to join the FDNY EMS is to work hard, stay focused and take all the exams, educational opportunities and trainings offered by the Department."

Deputy Chief Leonard Wright
"It is an honor to be in a position that very few who look like me get to receive and uphold. I know there are many young men of color who would like to pursue a career in EMS and I look forward to setting an example of what it truly takes to respond to the call of duty. Throughout my tenure as Deputy Chief of EMS, I hope to foster, instill, and inspire development of a more robust and diverse environment, where our purpose as first responders are to help and heal those in danger, regardless of one's background, religion, gender, or complexion," said Wright, a 22-year FDNY veteran, who serves in our Division 8 Brooklyn South. "To those of you who are looking to join the FDNY EMS, I say dig deep and learn all that you can to make your first step to understand what it means to truly help and save lives. When responding to danger or a crisis, every single life counts. This profession is not for the faint of heart, nor is it for the heartless. If you're willing to take these principles and apply it not only to your job, but to your way of life, you have a purpose and a calling here. All are welcomed, even more so if your heart is in it. To any young people of color who wish to join, I strongly encourage you to do so. The FDNY EMS will foster a strong and healthy environment for you, so long as we at the EMS hold ourselves, and each other accountable to uphold and maintain it, and I will give nothing but my absolute best to make this a reality."

Deputy Chief Telina Lloyd
"Being a part of FDNY for the past 18 years has allowed me to grow and flourish into the advocate that I am today. As an officer, I have been able to witness our members be compassionate and empathetic, while providing the most advanced pre-hospital care. I am happy to be a part of the family at FDNY. Being a role model for others is an honor. I hope I am able to continue to inspire others to take on this career," said Lloyd, an 18-year FDNY veteran who leads our Office of Medical Affairs in The Bronx. "My advice to anyone looking to become a member of FDNY is to practice, practice, practice. Treat all patients as you would your own family or loved ones. Continue to grow and be willing to learn and try new things."

Deputy Chief Laitrice Edwards
"Being a part of history is indescribable. When I begin my career, I wanted to save lives and later found out I was a hero. I ventured into a supervisory title and gained an understanding of my role in leadership. Being a part of FDNY is just an honorable feeling and I'm so grateful to play such a part," said Edwards, a 17-year FDNY veteran, who serves in our Division 2 Brooklyn South. "The advice I have for those who are looking to join FDNY is don't limit yourself. Believe in the greater good and you will always achieve success."

Deputy Chief Mario Thompkins
"I feel like this experience is bigger than myself. As an Afro-Latino male within the Department in the rank of Deputy Chief, having this opportunity is living out the dreams of my ancestors. How much sacrifice was given to afford me the opportunity to be where I am now, can only be paid forward by giving my absolute best and encouraging others who look like me to become anything they want with hard work no matter their circumstances or the environment they come from," said Thompkins, a 17-year FDNY veteran, who serves in our Division 3 Brooklyn Central. "My advice to anyone looking to join FDNY EMS is to always work hard, stay focus and strive for excellence, so that when you position yourself, you can help others come up as well."

Deputy Chief Kahlia Graham
"Being a part of history in the FDNY as an EMS Chief is a great honor. I did not aspire to be a Chief. I didn't think it was an obtainable goal for me. Thankfully, someone saw something in me that I clearly didn't see in myself. Now, I have the opportunity to inspire others. The ability to show others who look and feel like me that anything is possible," said Graham, who has served for nearly 17-years and who works in our Division 8 Brooklyn North. "My advice for those who are looking to join the FDNY would be to stay the course. You never know where this amazing opportunity will lead you. Share the knowledge you learn as well as your experiences with others. Doing so will provide the future members of the FDNY the tools they need to succeed."
Like our chiefs, you can have a rewarding career in our EMS. Learn how to start the process to join our Department today by clicking here.