Happy Father's Day! In recognition of this special occasion, join us today in learning more about our heroic FDNY fathers. Get ready to meet a FDNY Explorer dad, an EMS officer dad, a first-time FDNY dad and a third-generation Firefighter dad, as well as their children.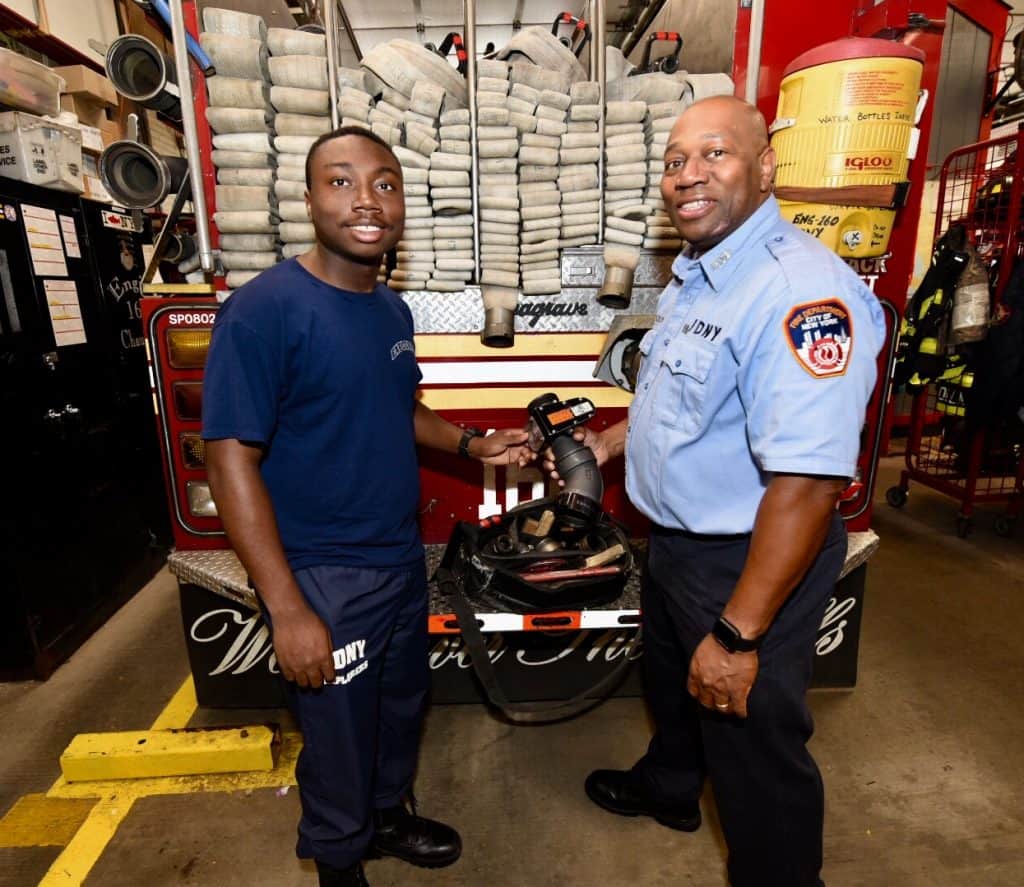 Lieutenant James Blow and his son Sekou
Engine 160 Lieutenant James Blow definitely has a lot to smile about these days, especially since his oldest son, Sekou, has already started putting his goal of joining the FDNY into motion. For the past two years, the 19-year-old has been serving as a FDNY Fire and Emergency Medical Services Explorer in Staten Island. The program, which is part of our Youth Workforce Development, assists students in gaining valuable insight into the rewarding careers in our Department.
"Working in this career is all about helping people and we're prepared to do our job properly at all times because of our excellent training and this really is the best job that I have ever had in my life," said the father of two, who is currently serving as the Commanding Officer of our Office of Recruitment and Retention. "I had an inkling years ago that Sekou would want to become a first responder like me because he always loved coming to the firehouse as a kid and I love that he's learning so many skills and morals as an Explorer. I'm very proud of him."
"Being an Explorer is really cool because we train a lot like the 'Probies' at the Fire Academy and EMS Academy and I think it's a great way to spend my time in between going to college because I'm already learning about the careers I want to work in after I graduate," Sekou added. "I've been going to the firehouse with my dad since I was five years old and he's always taught me about the different ways Firefighters help people. I love him not only because he's a Firefighter, but also because he's always there for me and my brother Jelani. He's always spending time with us and doing what he can to help us in life."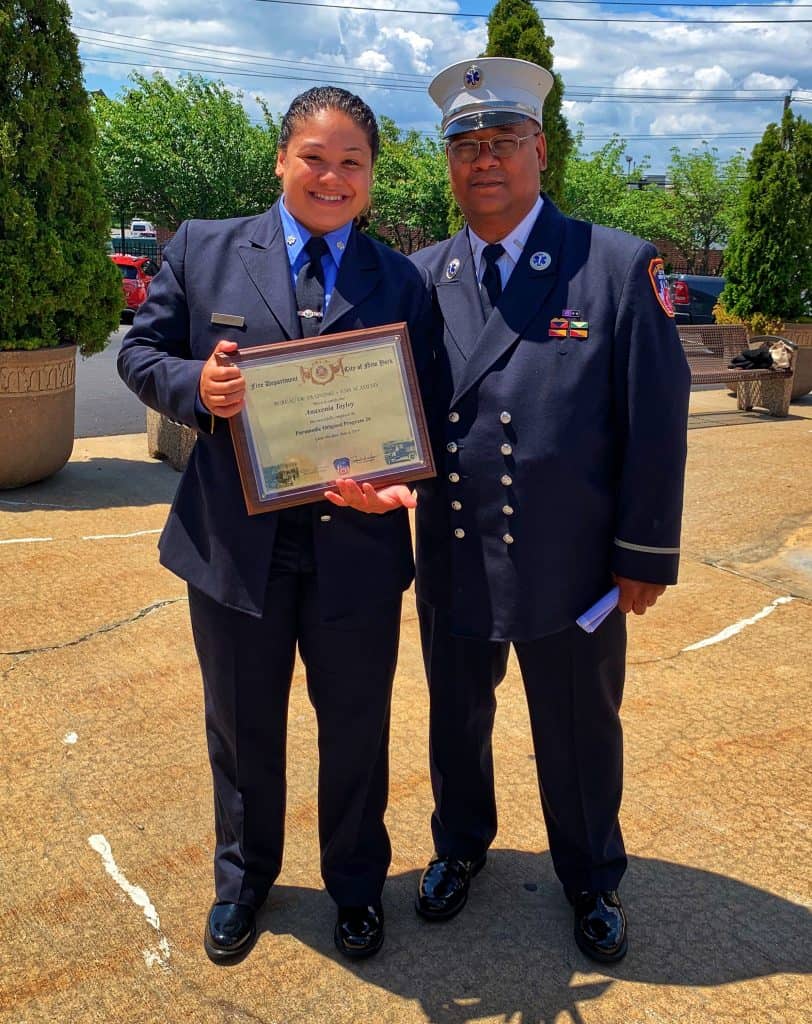 Lieutenant Gerardo Toyloy and his daughter Paramedic Anaxenia Toyloy
Station 19 Lieutenant Gerardo Toyloy said this Father's Day is a very special one to him because he's still so happy about his daughter, Anaxenia, getting promoted to a FDNY Paramedic. On June 6, she became one of 60 Paramedics to graduate from our EMS Academy.
"Seeing my daughter work hard and put in the time to train and advance her career in this Department is the best Father's Day gift that I could get," said the Lieutenant, who is a 29-year veteran in our Department. "I'm so proud of my daughter and I love that she values working here because this is a great Department. As a Lieutenant, I love to teach what I've learned through the years to our incoming members because that helps to make our Department even greater and I plan to continue to help others in this career as much as I can because I love this career."
"Paramedic training was challenging, but I learned a lot from my father about this field, so that was very helpful and inspiring when I was completing the Academy," added Anaxenia, who works at Station 55 in The Bronx. "My dad has been a phenomenal parent to me and he's such a great person, he's always teaching me so much and if it wasn't for him, I wouldn't be where I'm at in my career. I'm happy to be following in his footsteps and I just love that I'm able to show him that I can be a superhero like him and I can continue to make him proud."
Firefighter Mohammed Abdalkwy and his daughter Macie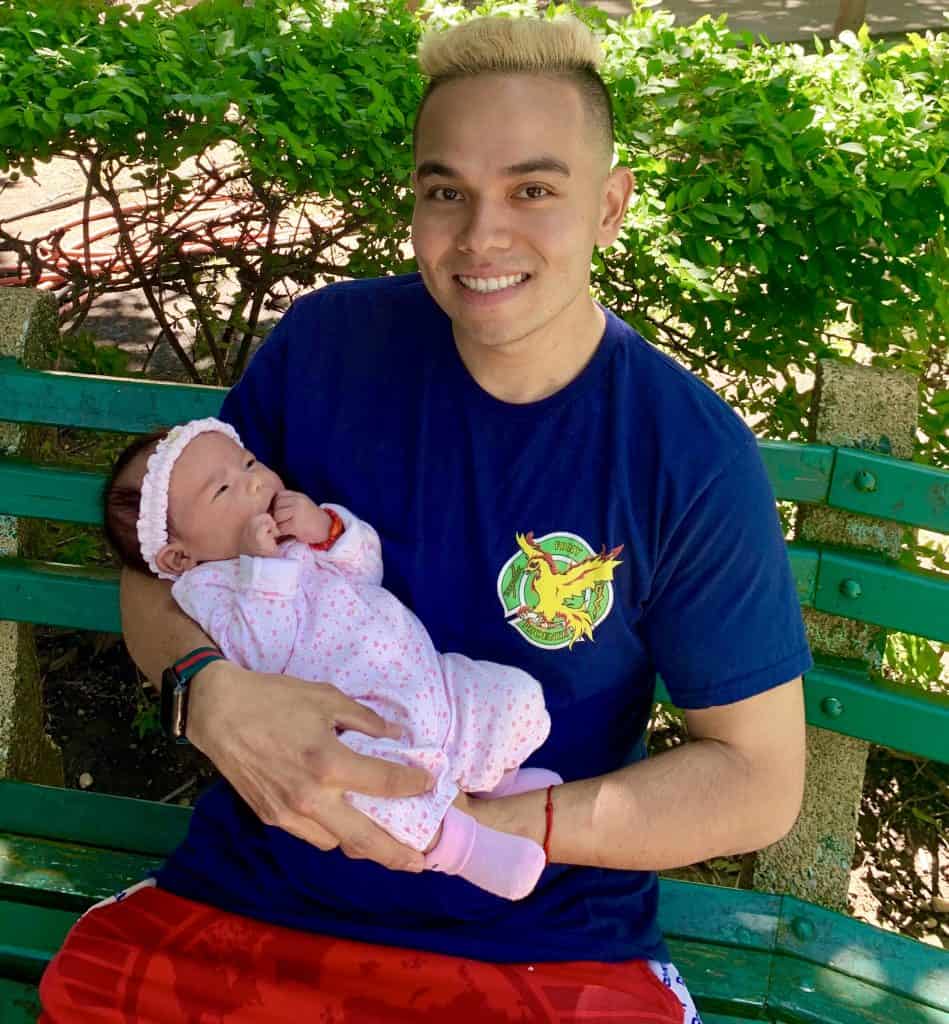 Engine 325 Firefighter Mohammed Abdalkwy is representing all of the first-time FDNY fathers this year. On May 4, he celebrated the arrival of his daughter, Macie, who he said brings continuous joy in his life.
"The life of a new parent is just amazing and I'm so happy to have a beautiful baby daughter in my life now because she's so adorable and every time I see her, I'm just filled with happiness," he added. "My career is the best one for my current situation because the schedule is very accommodating and I'm able to be there for my daughter and my wife, Maria, and help them at home. There's a lot of adjustments that comes along with being a new parent and the support that I have here at work definitely helps with making this transition run smoothly and that's important."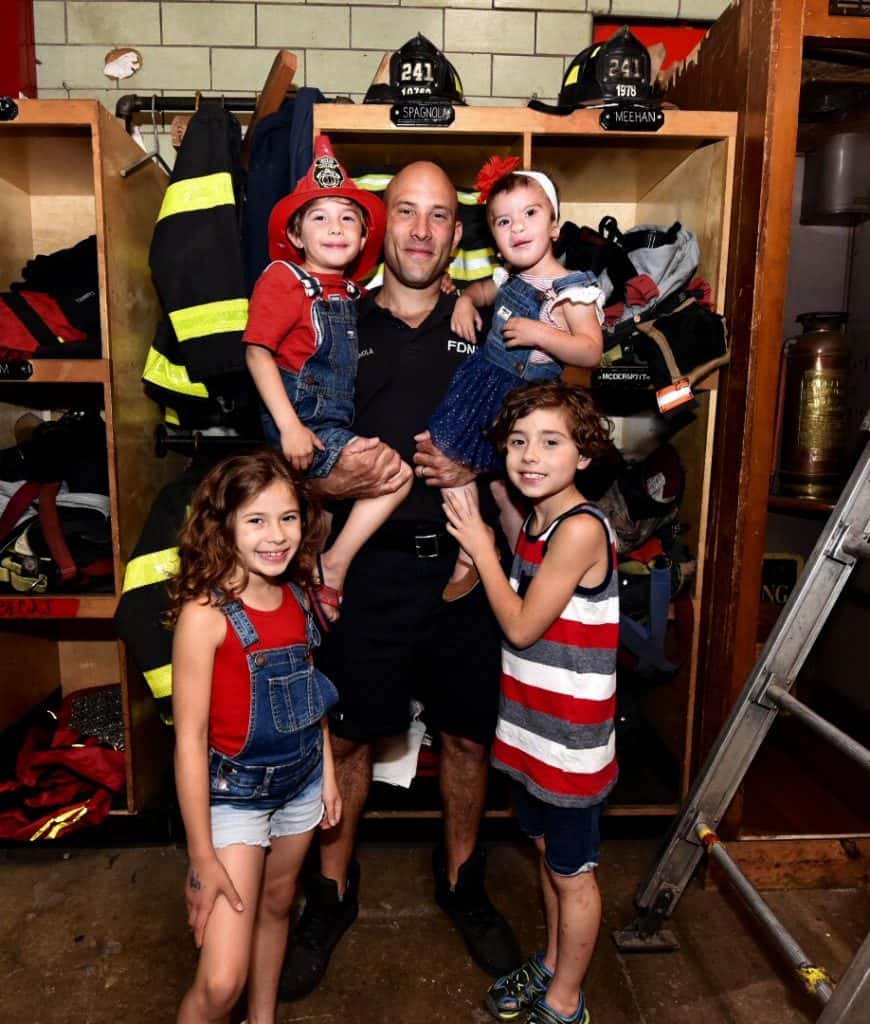 Firefighter Joseph Spagnola Jr. and his children Joseph III, Juliet, Jace and Jemma
After meeting Engine 241 Firefighter Joseph Spagnola Jr., his wife Lori and their kids Joseph III, Juliet, Jace and Jemma, it's easy to see that they love being with one another, they love sharing laughs and hugs and they love spending time at the FDNY firehouse.
"When you work in a career like this one, it's like an extension of your home in a lot of ways and my kids see that we're a family here and that we support one another and they love it," said Spagnola, who is also the son of retired FDNY Firefighter Joseph Spagnola Sr. "I love my kids and I love spending time with them because I come from a close-knit family and having that family time with them and my wife, Lori, is really important to me. I'm just very thankful to be working in a Department that supports families and family life and that I'm able to be heavily involved in raising my kids. That makes me happy."
.