Shout-out to FDNY Youth members Mark Blair, Mmesoma Onukaogu and Diamond Zephirin for earning the honor of Academic Achiever for the 2022 FDNY Youth Summer EMS Academy (SEMSA). The three new Emergency Medical Technicians will lead their class tomorrow during a completion ceremony at our Fire Academy on Randall's Island. Join us below in learning more about these young, talented and motivated New Yorkers.

Meet EMT Mark Blair
"I wanted to join the Youth EMS Academy because it is a great opportunity for me at a young age and it serves as a stepping stone to one day becoming a New York City Firefighter," said Blair.
Blair was born and raised in Guyana before moving to Canarsie in 2015. Dedicating himself to his studies, he noted he was introduced to a new morning routine during his time in the academy, which in turn helped him throughout the seven-week program.
"Waking up at four in the morning every day was one of the highlights during my time in the program. It was a new experience that I grew to enjoy," he recalled. "Being surrounded by so many different people, adapting to each other, supporting each other through our physical training sessions and our studies, and having great instructors, I think helped all of us boost our teamwork and leadership skills. After my time here completing this academy, I plan on furthering my career in the FDNY as a Firefighter. I'm proud of what I've done so far with my time here and I plan on accomplishing more to make both my family and friends very proud of me."
Meet EMT Mmesoma Onukaogu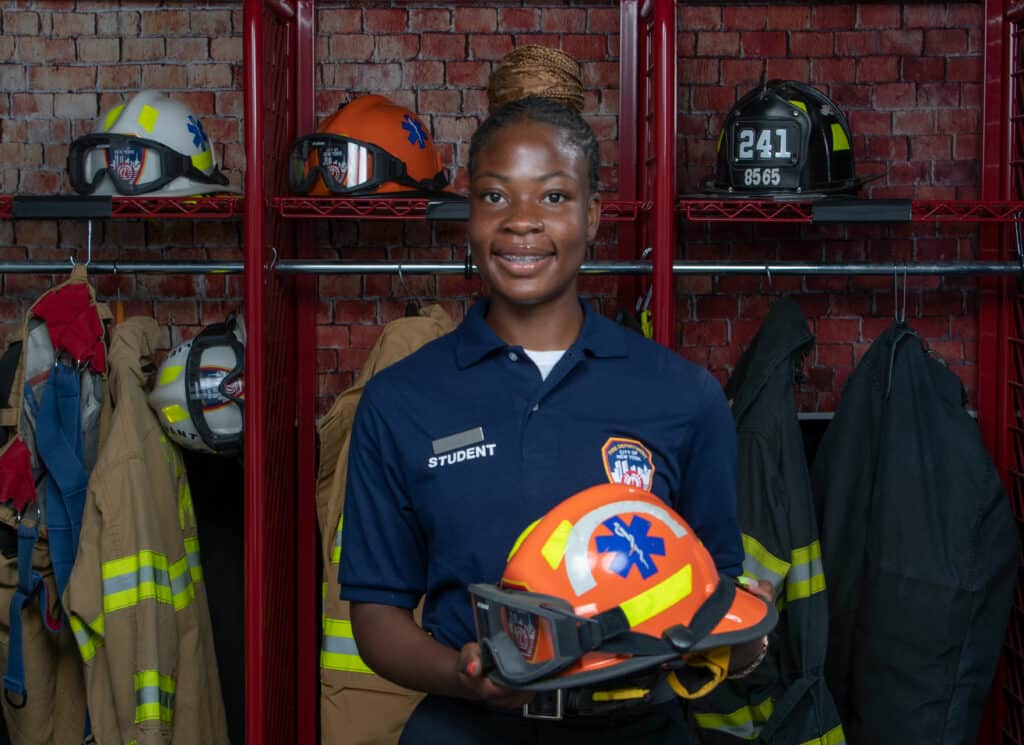 "I joined the Youth EMS Academy because it looked like an amazing opportunity. Living in New York City, you see the effects EMS has on people, and how they play a vital role in saving lives, and I strived to be part of that," said Onukaogu.
Onukaogu was born in Nigeria and raised in Southside Jamaica, Queens. Throughout her time in the academy, Onukaogu thanks her fellow classmates and instructors for their constant support and teaching her the lessons that go beyond EMS and into the rest of her life.
"The lessons we learned throughout our lectures and training gave me the confidence to finish this program despite any challenges that came my way," Onukaogu recalled. "We all supported each other through this process and in the end, it made us all stronger physically, mentally, and emotionally. After completing this academy, I intend on enrolling in college to get a degree in mathematics and economics while hopefully continuing my career here with the FDNY as an EMT. I am the first person in my family to go this route and it is my driving force to continue along this path. To anyone who is interested in participating in this program, I would simply say just trust the process. It is challenging at times, but the end result is very rewarding."

Meet EMT Diamond Zephirin
"I was inspired to join the Youth EMS Academy by a friend of mine who also participated in this program. I am currently in college studying exercise science, so I also felt like becoming a EMT was a great first step into joining the medical field," said Zephirin.
Born and raised in Cambria Heights, Zephirin enjoyed the physicality that was required during the seven-week program, which helped her and her fellow students develop consistency and discipline.
"One of my highlights of my time here was participating in the Spirit Run," Zephirin recalled. "We are one of the biggest classes this Academy has had, so training together as a group helped me work as a teammate and learn how to always make a positive impact towards any person I work with or any group that I am a part of. My family knew from the beginning what I was capable of in this program and with their support, I can proudly say I am ready to work. To anyone interested in joining the Youth EMS Academy, do not expect this to be just another summer program. No matter how challenging things can seem, always remember to push through, and be ready and prepared for anything."
Learn more about FDNY Youth today here.