A tip of the helmet goes to Probationary Firefighters Michael Hargett and Hector Tyler Jr. for becoming the first black third generation Firefighters in FDNY history when they graduated from our Academy on April 18.
Michael's father, Dennis Hargett, served in our Department for 24 years and his grandfather, George Hargett, completed 25 years of service. Hector's father, Captain Hector Tyler Sr. served in our Department for almost 25 years and his grandfather, Lieutenant Nathaniel Tyler completed 27 years of service. Hector Sr. is also a former Commanding Officer of the FDNY Office of Recruitment. Commissioner Daniel A. Nigro and Chief of Department James E. Leonard also congratulated both families for marking a place in our Department's history during the special ceremony.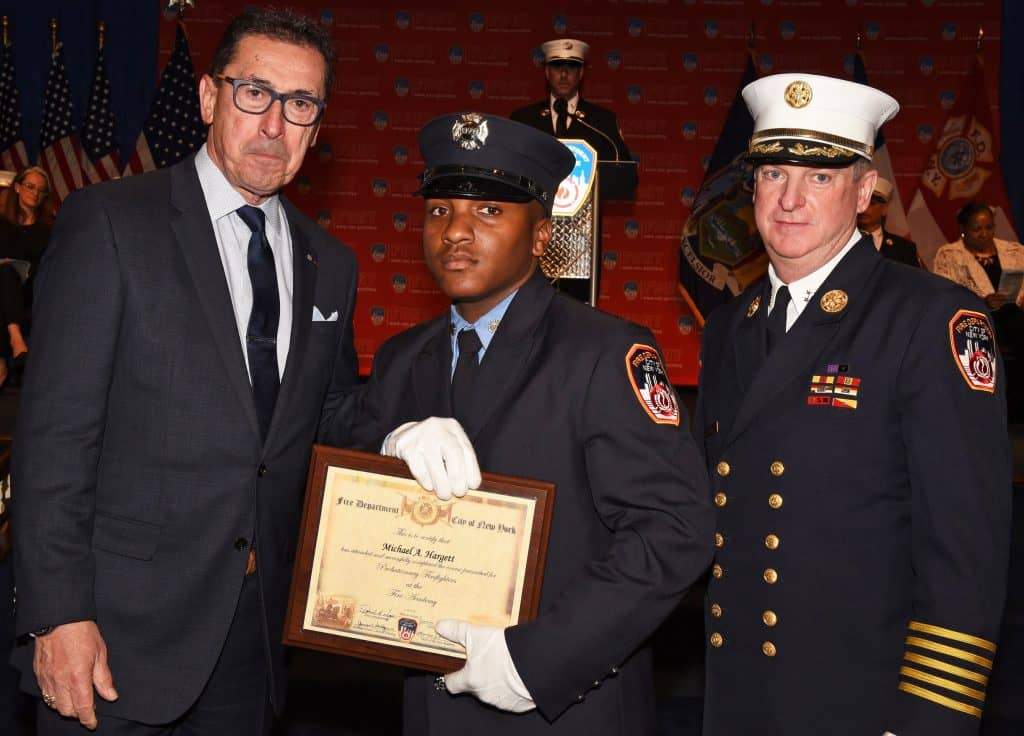 "I really like helping people and I've learned so much working for this Department in EMS and to be here now making history with my family as a Firefighter is a great feeling," Michael said. "It makes me smile to see my grandfather and father so excited about this too and I feel blessed that I have the opportunity to continue our family tradition."
"Seeing my son walk across that stage really made me feel proud and my heart is filled with joy today," Dennis added. "He made history not only in our family, but also in the best fire department in the world and I'm just so proud that he has this distinguished honor."
"Celebrating all of this today is really beautiful and words can't describe how happy I am for my grandson and our family," George added. "This is the best job in the world and now we have my grandson continuing the legacy and that's really special."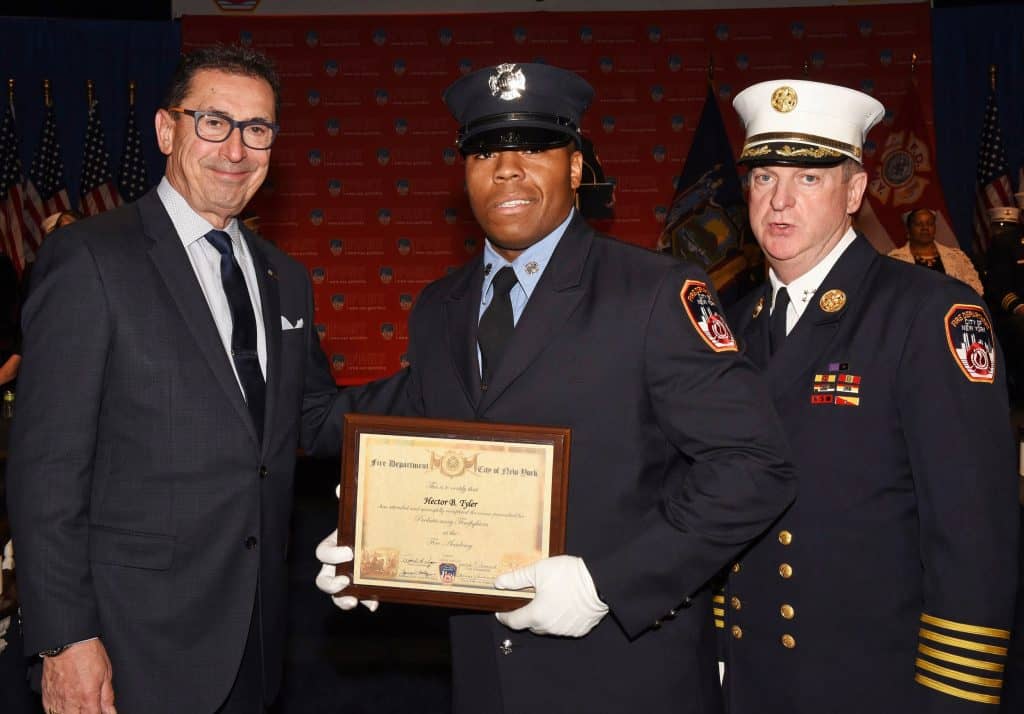 "Becoming a FDNY Firefighter is a dream come true. This is what I have wanted to do since I was young. Growing up, my dad would take me to the firehouse and I thought he was the coolest guy ever. I'm thankful for the opportunity to follow in the footsteps of my father and my grandfather," Hector Jr. said.
"I think it's great that we're keeping the legacy going in our family with my son becoming a Firefighter," Hector Sr. added. "My father taught me about the job by spending time with me at the firehouse and I brought my son to the firehouse and taught him about the job and I'm glad he enjoyed that and decided to pursue this career."
"This was my grandson's lifelong dream and I'm glad he worked hard to make it come true," Nathaniel added. "This is the greatest job I've ever had and I'm very proud that my grandson is a Firefighter now too."
In addition, people of color comprised 34 percent of the 311 Probationary Firefighters who graduated that day- 18.6 percent identified as Hispanic, 10.3 percent as African-American, and 4.8 percent as Asian-American/Pacific Islander. There were also five women in the class, bringing the total number of women Firefighters to 72 – the highest total in FDNY history. To view more photos from graduation, click here.