"That's my dream job, that's what I really want." Join FDNY Podcast, Episode 6
June 29, 2023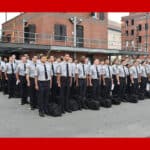 The FDNY Fire Cadet Academy has Begun
July 19, 2023
Share this news! The application period is now open for the FDNY Youth Winter EMS Academy Class of 2024 (WEMSA). This program is a New York State Emergency Medical Basic Certification Course. To be eligible to apply, you must be between the ages of 17-28 and possess a high school diploma or its educational equivalent. Benefits of this program include a weekly stipend, monthly MetroCard, paid driver's education course, HazMat training and more.
The deadline to apply is July 21.
Submit your application today here.