W orking for the FDNY represents helping the community, pride, respect, family and opportunity. Today, the spotlight is on our FDNY moms as we recognize them for being the brave, loving and dedicated heroes that they are. Join us in celebrating this special Sunday by meeting retired EMT Traceye Dillion, Firefighter Daiana Kriss and EMT LaShaun "La La" Knight, as well as their daughters.

EMT Traceye Dillion and her daughter EMT Ayana Dillion
For retired EMT Traceye Dillion, working for our Department was very special because she was able to help the community in so many different ways. Now, she has passed the first responder baton to her daughter Ayana, who is serving as an EMT at Station 8 in Manhattan.
"This job is truly an awesome one and I loved working here for so many years because every day was something new and I knew I couldn't save the world, but I really loved that I made a difference by helping our patients whenever they called us," she said. "When my daughter told me she wanted to work here too, I knew she could do it and she worked hard to join the Department and I'm very proud of her because this is an honorable job."
"I already had an idea of what this career was about because I saw my mom work in this field for so many years and I always thought it was a cool job and I love how the Department is well-respected," Ayana added. "I love this job. We're helping people every day, meeting new people all the time, seeing new places and we're always learning."
Engine 276 Firefighter Daiana Kriss and her daughter Clara Kriss

Engine 276 Firefighter Daiana Kriss is representing all of the new moms out here this Mother's Day. Even more special is that her little bundle of joy, Clara, is five weeks old today.
"Mother's Day should be Mother's Year," she said. "What a gift it is to be able to care for and love a child. It's a very different kind of love and I feel so close to her and it's really special. This has been a blessing and a joy and I feel extremely lucky to have her in my life."
And if you didn't know already, Daiana made history in our Department 14 years ago when she joined her sister, Kinga Mielnik, as a New York City Firefighter. The two continue to help inspire young women to pursue a career in fire suppression.
"Being a firefighter is a great career and I feel very lucky to be a first responder and to be able to help people in an emergency. I love the members that I work with, they have become family and the firehouse is like a second home," she added. "Representing the Department, especially women on the job is an honor and a privilege. I hope that by seeing a female in her FDNY uniform that more girls and women will see themselves wearing bunker boots and seriously consider a career in firefighting."
EMT LaShaun Knight and her daughter EMT Anaadia Simmons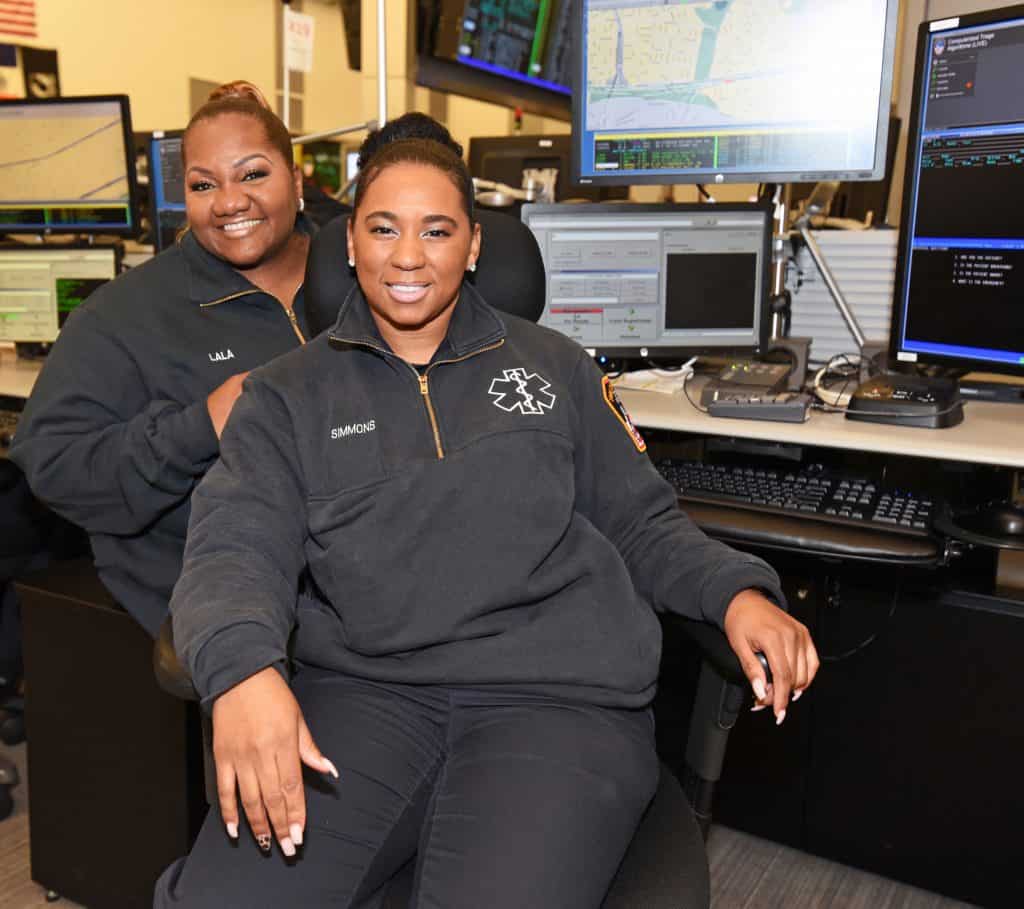 Say hello to EMT LaShaun "La La" Knight and her daughter EMT Anaadia Simmons. After interviewing this mother-daughter duo, it's easy to see that they love each other and they love being a part of the FDNY family. In addition, following in her mother's career footsteps has been a dream fulfilled for Anaadia.
"I always knew I was going to work here since I was a kid and I always admired this career because of my mom and the important work that we do here," said Anaadia, who works in our Emergency Medical Dispatch just like her mom. "This job is really about being there for our patients in their darkest times and helping to save lives and that's also why I respect it."
"I really enjoy helping others for a living and I love working for this Department," said LaShaun, a 26-year veteran, who also served during the September 11th rescue and recovery effort. "There are so many great things about this job and what I love especially is that the schedule has allowed me to be a full-time mom. Every career doesn't offer that and that's definitely one of the reasons why I have been with this Department for so long and I'm very happy that my daughter is working here now too."