Throughout this month, we have recognized Asian and Pacific American members in our Department for their bravery, achievements and contributions in celebration of Asian Pacific American Heritage Month. If you missed any of our stories, don't worry, we have you covered. Check out the members who were spotlighted on our social media in recent weeks as we remain united with the rest of the country in honoring this important month.
Firefighter Wilson Yam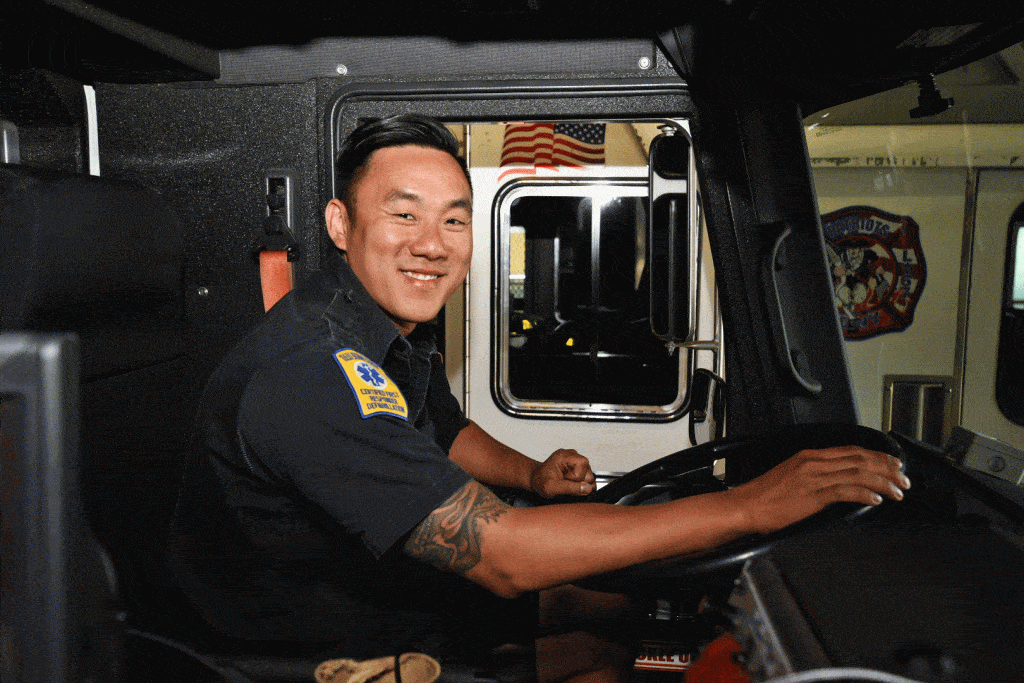 "This is the best job because our members are go-getters. We're always in the community helping people and we step up without hesitation to help the city. The environment here is unlike any place I've ever worked, there's so many opportunities for advancement and I love working for this Department," said Engine 320 Firefighter Wilson Yam. "The neighborhoods I work in such as Bayside and Flushing have a high population of people of Asian descent and when we arrive on scene, sometimes the people we're helping don't speak English. I'm fluent in Cantonese and it feels great to be able to speak to them in their native language because it seems to make them more at ease and comfortable with letting us help them."
This past April, Yam also dedicated time to provide translation assistance to New Yorkers at a FDNY Incident Management Team led vaccination site in Flushing. The efforts were part of his work with the team and the FDNY Phoenix Society.
"In IMT, we get deployed to other areas nationwide to help with national disasters and provide support to first responders in those areas. Our work at the vaccination site was important because it was another way for us to help the city get through the COVID-19 pandemic and do what we can to help locally," he added.
Associate Project Manager Ting Yu Huang

"I enjoy my job because it is very meaningful. Our goal is maintaining the safety of the public. We deal primarily with life safety and help to make sure the regulations of the fire alarm system designs are up to code. Fire alarm systems are extremely important for the safety of the occupants of New York City buildings, as well as the structure itself. We check and make sure everything is properly designed and up to code before giving the approval," said Associate Project Manager Ting Yu Huang, who works in our Bureau of Fire Prevention. "I'm fluent in Cantonese and being bilingual really comes in handy when interacting with the public. It's truly another way for us to provide the best customer service and I appreciate the duality of the American culture and my Chinese heritage."

Candidate Physical Ability Test and Fitness Awareness Program Coordinator David Lin

On May 21, FDNY Candidate Physical Ability Test and Fitness Awareness Program Coordinator David Lin served as a panelist in the Department of Citywide Administrative Services Asian American Pacific Islander Heritage CityTalk Panel Discussion. The event, which featured recruitment specialists from across the city, recognized the historical contributions of Asian Pacific Americans, as well as provided important information about careers in city public service. Lin is also the president of the FDNY Phoenix Society.
The FDNY Phoenix Society
On May 16, the FDNY Phoenix Society was honored at the Asian & Proud celebration at Leif Ericson Park in Brooklyn. Members of the society were recognized by elected officials for their continuous community outreach efforts, especially during the COVID-19 pandemic. In April, the society also provided translation services to the public at an FDNY Incident Management Team vaccination site at Queens Public Library in Flushing.
As part of the festivities, the society and the FDNY Office of Diversity and Inclusion also co-hosted a Dim Sum gathering at Park Asia Restaurant in Brooklyn. Learn more about the society here.

Lieutenant Terence Lau

"I love my career because it's extremely rewarding. People always say, 'Thank You' and this kind of work is self-fulfilling," said Station 39 Lieutenant Terence Lau, a nearly 15-year FDNY veteran. "I feel a sense of accomplishment to have made a difference in a stranger's life. The people that I work with here are also amazing and we're one big family. This Department is different than other places I've experienced because it's a great atmosphere to work in and there are so many options to choose from to advance your career."
Last month, Lau also joined his fellow members of the FDNY Phoenix Society to help with community outreach at a COVID-19 vaccination site at Queens Public Library in Flushing.
"I speak Cantonese and being bilingual is great because I can help the community even more. The Flushing community has a high population of Cantonese speakers and while working at the site, I was able to help many people who didn't speak English and provide them with information and assistance so they could get vaccinated. It's important that we continue to do what we can to help the city."
Firefighter Ethan Moritz

"When I was five years old, I read a children's book named 'Ladder Company 108,' which was about a firehouse in Brooklyn. I thought it was the coolest career and ever since then I wanted to become a New York City Firefighter," said Ladder 25 Firefighter Ethan Moritz, who is currently detailed to Engine 217. "I love that this job is unpredictable and it keeps me on my toes. When I go to work each day, I know it will be different and I know I will help people. It's a good feeling knowing that I've made a difference and it is very fulfilling."
Moritz, who joined the FDNY in 2019, is also a United States Air Force veteran.
"The military and FDNY are similar when it comes to unit cohesion and being mission oriented. When there is an emergency and we arrive to the scene, we work together and have the same end goal," he explained. "I spent more than a decade of my life serving in the military and I wanted to continue to work in a career where I'm helping others and being a part of this Department allows me to do just that."
Learn more about our careers today here.