In celebration of EMS Week, the spotlight is on Station 44 EMTs Martell Rolan and Jordan Tymony, who courageously helped to deliver a baby in the living room of a Brooklyn home last month. Today, join us in learning why these two young heroes decided to work for the largest, most highly-trained EMS in the world.
EMT Martell Rolan
"I joined the FDNY mainly because of my grandmother. Unfortunately, she passed away when I was younger, but I saw the interaction with the unit who was on the call to help her. I told myself I am going to work in my neighborhood and help people in need and treat them with dignity and respect. Being able to render care to people from all walks of life is something that I am proud of. We are not here to judge anybody, we are just here to help," said Rolan, who has been serving in our Department for nearly three years. "Working within Central Brooklyn is an experience. There is no typical day here. Since I've been an EMT here, I've delivered two babies. We are unsung heroes. We have so many calls and it's job after job, and we utilize our training to help people. We meet so many families and we receive plenty of thank yous. It's a good feeling, but there is always the next call. We do the job that we are trained for and we are prepared for anything we may face."
EMT Jordan Tymony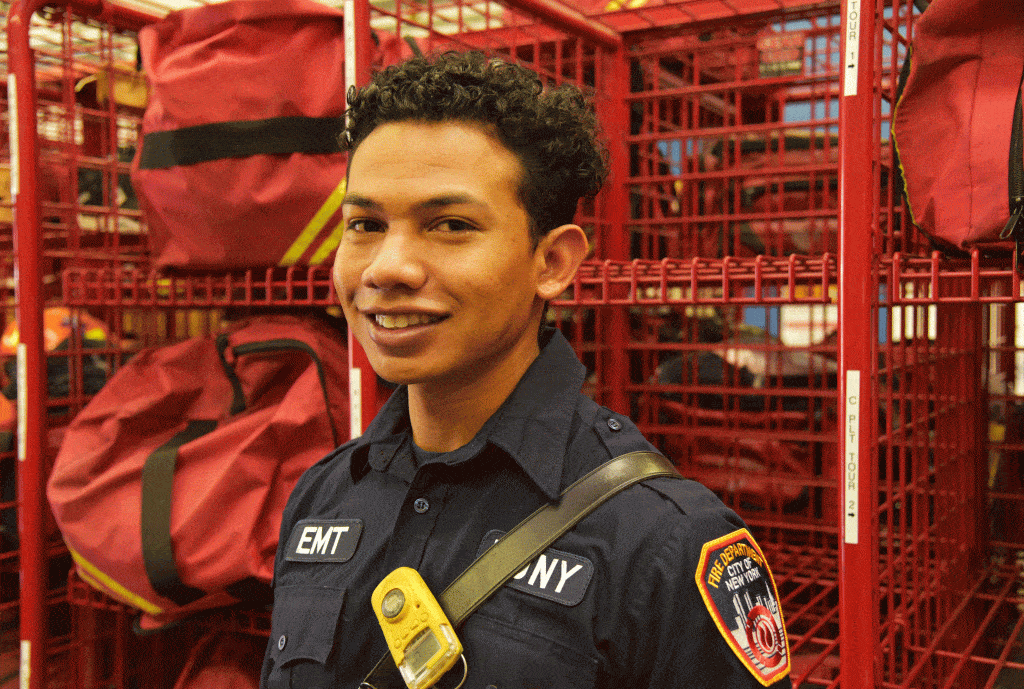 "I grew up in Wichita, Kansas and ever since I was a kid, I remember watching YouTube videos, reading articles and learning anything that had to do with the FDNY. I wanted to know everything about it and I always wanted to become a member here. I'm the first in my family to work here and become an EMT," said Tymony, who joined our Department last year in the height of the COVID-19 pandemic. "When I got accepted into the Academy, I packed up my things and moved to New York within a week and I'm happy to be here. Our station is extremely busy. I can get a medical call in the morning, and by the end of my shift, I can have responded to a few traumas or could have delivered a baby and I love this work because I'm helping others. In this career, the people you help remember you and you truly make a difference in their lives."
With a desire to help others, training and hard work, you can become a FDNY EMT like these two. Read about the eligibility requirements for this essential career here. Learn more about how our EMTs are trained in the Academy here.