On this Flashback Friday, join us in learning more about Station 20 EMTs Kyle Barbaria and Carmen Ruiz. On July 13, these two first responders' quick actions helped save the life of two construction workers in The Bronx.
"I always read about the FDNY and how knowledgeable and advanced the training was in Fire training books and other educational material. Being able to help people in their darkest hours and having the privilege to say I am part of the largest Fire Department in the country is something that I am very proud of," said Barbaria, a 20-year FDNY veteran and Morris Park native."There are so many different avenues this Department offers for advancement that no matter how long you have been here, there is always an opportunity to learn more than you knew before."
"I love working for the Fire Department. In order to provide the best service in the city, you must be ready and willing to help someone in need, whether it is providing medical care or just being someone that our patients can talk to," said Ruiz, a fellow Bronx native who has spent 19 years with the Department. "
On July 13, Barbaria and Ruiz were working on the Orchard Beach Alternative Support Apparatus (ASAP) unit where they were involved in the rescue of two construction workers who were trapped under a large piece of concrete ceiling.
"A group of construction workers were working on the Orchard Beach Pavilion where part of the concrete ceiling fell on two of the workers," Barbaria explained. "With the only access to the patients being a 5-story narrow scaffolding, my partner and I had to think quickly on our feet to treat and remove the patients from the work site while we waited for additional resources to arrive."
"My partner explained to me that there was a ceiling collapse at the construction site within the Orchard Beach Pavilion and two men were trapped and unconscious," Ruiz added. "We put on our protective equipment, climbed up to the site and began providing treatment to the patients while we waited for extra hands to arrive."
This is not the first time EMTs Barbaria and Ruiz have performed the highest quality of patient care.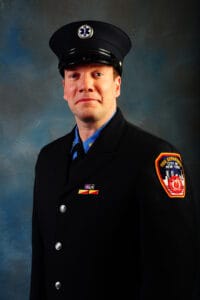 In 2011, EMT Barbaria was given the Christopher J. Prescott Medal at FDNY Medal Day for his effort in subduing a patient who attacked a Police Officer inside an emergency room.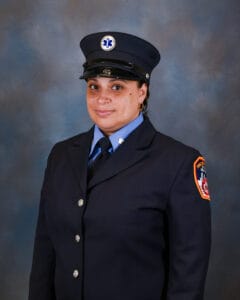 In 2022, EMT Ruiz was given the Jack Pintchik Medal at FDNY Medal Day for her effort in treating a pediatric patient who was struck by lightning.
"For all of those who are interested in joining this Department, all I can say is just do it," Barbaria stated. "It is a great career that is extremely rewarding. We are a family here and there is no other job in the world that allows you to make a difference in people's lives like this one."
"If you have the constant urge to always help those in need, I highly suggest joining the FDNY," said Ruiz. "We are the best of the best and we are proud to provide this service everyday we can."
If you think you have what it takes to become heroes like these two, learn more about a career in EMS here.