Battalion Chief Michele Fitzsimmons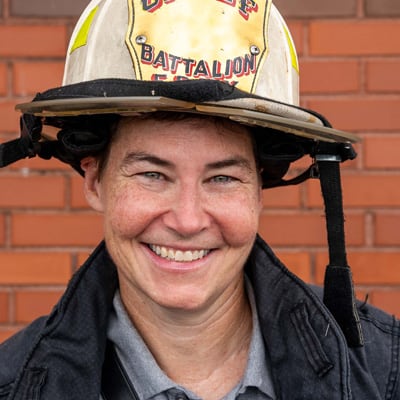 1. What is your name, title and number of years at FDNY? Where are you currently assigned, and what are your work-related responsibilities?
My name is Michele Fitzsimmons; I have been in service for 21 years, and I'm a battalion chief (BC) assigned to Division 14. As a battalion chief, you are the initial incident commander at an event, overseeing multiple units who are carrying out tasks they've been assigned. While in the field, BCs work to see the "big picture" as folks take on the individual tasks needing to be done. We make sure that we know what everyone is doing so we can support them as we move in the right direction. There's no staticism in the fire department—things are either getting better, or they're getting worse.
2. What called you to a life of public service at FDNY?
My grandfather and great-grandfather were both in the Fire Department. My grandfather retired in 1968 as a battalion chief, and my great grandfather retired in 1958 as a firefighter. I had worked in public service before. I worked with people with HIV and AIDS for 10 years prior to coming to the Fire Department. The transition into FDNY was much less stressful to me and more physically active, which was important to me, as well as having a job that had a very clear set of tasks, which would allow for me to have better work-life balance.
3. Can you share one of your most memorable moments while working at FDNY?
Among my many memorable moments at FDNY, the one that comes first to mind is the day I got to work with my sister, who is a firefighter, in June 2019.
The other moment is the first fire, a multiple alarm, in Woodside, Queens—myself and two other women were on the scene, Battalion Chief Rocky Jones and her aide, Eileen Green. It was the first time I had been to a fire and there were women serving on the scene.
I remember my first fire; I remember my first time on the nozzle working in an engine as a firefighter; I remember my first job as a battalion chief responding to a multiple alarm. These are all key moments, moments to reflect on as you build your career. But I also remember a lot of the mistakes, because those are the things that I strive to improve. And that's where you see growth: making mistakes, going back and making corrections.
4. What does "We Are FDNY" mean to you?
"We Are FDNY" makes me feel a sense of pride. It reminds me that every person that is a member of the FDNY has their role to play. That it's integral to how the Department operates, because if everyone can take ownership of who and what their role is, it makes us greater and helps develop a sense of ownership and responsibility. Together, we all help support our main goal of serving the City of New York. I believe a majority of us—both firefighters and EMTs, paramedics, officers and civilian staff—all play a part in making our organization the best in the world.
5. What is your superpower (best quality or skill)?
My superpower is believing in people around me. That is what makes good leaders.
6. How does your role support the public safety mission of the FDNY?
As a battalion chief, my role supports the public safety mission of the FDNY by ensuring that companies, engine companies, truck companies understand what their role is and are held to a standard of excellence. A battalion chief can help units to recognize what their role is at an incident as well as to ensure that we're looking out for the safety not only of the public, but also the safety of our members. That's a really significant role for a battalion chief, to maintain the awareness of serving our mission while maintaining safety.