Lieutenant Barbara Aziz-Lopez
Citywide Advanced Life Support Coordinator
EMS Operations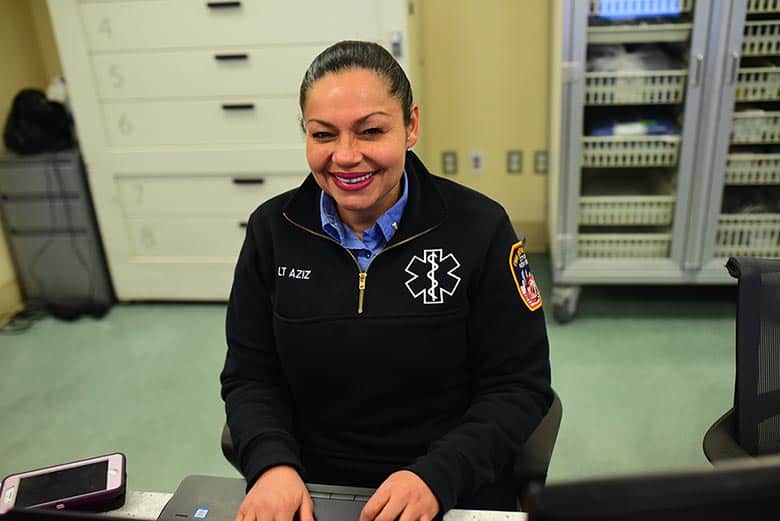 "Everything worth having is earned," says EMS Lieutenant Barbara Aziz-Lopez, who has been employed at the FDNY for 22 years. Lt. Aziz-Lopez is assigned to Lincoln Hospital, where her responsibilities involve reducing emergency response (ER) turnaround times and supervising EMTs and Paramedics. At an early age, Aziz-Lopez knew she wanted to work for the FDNY because of her interest in medicine as well as serving the community.
Lt. Aziz-Lopez credits her professional growth and strong independence to on-the-job experiences, one of which includes working as a Call Receiving Operator during 9/11. She received numerous heartbreaking calls for help from victims trapped in the World Trade Center. But no matter how heartbreaking or tough the job got, Lt. Aziz-Lopez was up for the challenge to go above and beyond.
Lt. Aziz-Lopez's first memory at the Department was working on the field in a major snowstorm in 1996. She, her partner, supervisors and colleagues worked hard, long hours but never stopped supporting one another through the storm. These experiences have given her the wisdom to realize the importance of being vulnerable, the awareness of being resilient and the courage to continue increasing her knowledge. Regardless of what she faces on a daily basis, Lt. Aziz-Lopez realized she is doing what she has been called to do and for her that is "living her dream."