ABAYOMI AJAIYEOBA WHINT
Legal Enforcement Attorney
Legal Affairs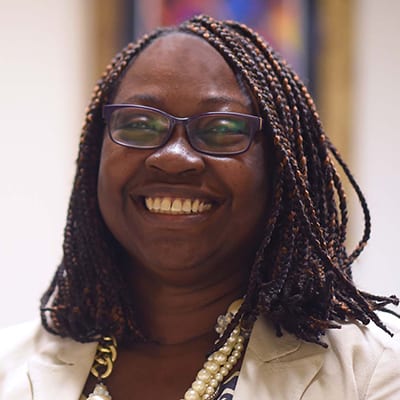 Abayomi Ajaiyeoba Whint has been a Legal Enforcement Attorney at FDNY for more than three years. She says FDNY is an environment where she can thrive and get involved in various professional opportunities. She loves having a career where she is entrusted with great responsibilities in the Bureau of Legal Affairs.
She enjoys walking into the lobby of FDNY Headquarters and being greeted with an abundance of information about every affinity group and organization at FDNY.
When she walks into an elevator at FDNY Headquarters, she appreciates that everyone greets one another. She says "FDNY is a very collegiate, positive, and family-oriented atmosphere."
Whint believes that being in an environment that promotes authenticity promotes productivity. She says she is grateful that she can be authentic at FDNY. She supports her colleagues by making sure they have the resources required to succeed. She says, "If you have the right resources, guidance, and mentorship, then you can be more productive." She feels that "the best tool for positive motivation is feeling like you are part of the team: you are being heard, your ideas are being acknowledged and your input is appreciated." She also believes that constructive feedback will help you grow in the workplace.
Whint is the President of the Civilian Organized Network Nurturing Education, Community and Trust ("CONNECT") affiliated organization, which welcomes all employees, but focuses on the needs of civilian FDNY members. She loves the Department's circles for courageous conversations about important issues, and is a trained Restorative Circle Keeper.
She is a member of the FDNY Phoenix Society, whose mission is to be the cultural bridge between the FDNY, its employees and the Asian communities of New York City.