Simranjeet S. Chadha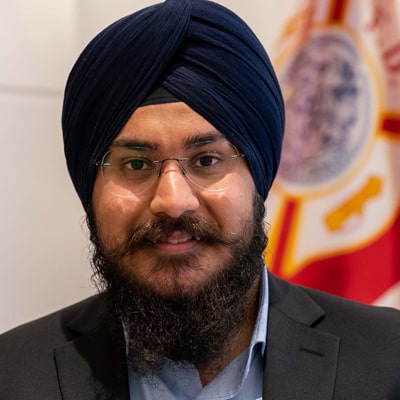 1. What is your name, title and number of years at FDNY? Where are you currently assigned, and what are your work-related responsibilities?
My name is Simranjeet Singh Chadha, and I've been an assistant electrical engineer in the Bureau of Fire Prevention for 3 years.
I review fire alarm plans for the City and make sure that they are compliant with the fire, mechanical and electrical codes. We ensure these steps are properly done before plans for installations happen. My team covers residential, commercial and industrial structures, as well as daycare centers. And, to date, I've worked on almost every type of building, communications and auxiliary system you'd see in New York City.
2. What called you to a life of public service at FDNY?
It was really important, and super meaningful, for me to be part of a public service institution. There are many ways to serve New Yorkers, including civil service, but working with fire plans is one of the ways we can ensure everything is safe for people before they engage within these spaces.
3. Can you share one of your most memorable moments while working at FDNY?
During my first day, I wasn't expecting it to be busy. I thought, "Maybe they'll sit me down, we'll do a few introductions—just ease me in." As it turned out, I immediately received my first lesson on how to properly check the electrical components found in a fire alarm system. It was totally unexpected. I wasn't thinking I'd be learning on the first day! This boosted my confidence, reinforcing why I joined FDNY. The rigor of the training process highlighted our members' leadership and their commitment to delivering the best service in New York City.
4. What does "We Are FDNY" mean to you?
"We Are FDNY" represents family: There's a strong sense of camaraderie, no matter what. It reminds me that I can always count on my team, superiors included, and talk about almost anything. I feel like there's always someone to help and guide, which helps with learning and achieving new things.
5. What is your superpower (best quality or skill)?
My superpower is my memory! Once I see something, especially something organized and detailed like a plan, I can talk about it in detail. If you were to ask me about it 2 years later, I could tell you exactly where the device was.
6. How does your role support the public safety mission of the FDNY?
My job is to review plans submitted by companies to make sure that they are setting up the correct systems for their occupancy requirements. We strive to ensure each structure is protected according to fire code. Technically, even before firefighter operations come into the picture, we make sure everything is in place based on the most recent code updates and emergency exit plans. We're literally responsible for installing prevention mechanisms that hopefully minimize fires and fire damage.