EMT Ramla Evans
Program Manager
Youth Workforce Development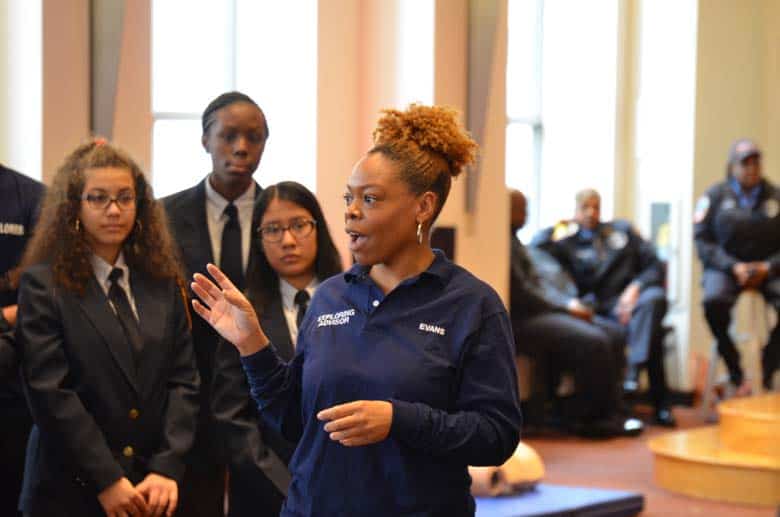 Ramla Evans is an EMT, Exploring Program Coordinator, Unconscious Bias Training Facilitator, LGBT Trainer, EEO Counselor, Assignment Receiving Dispatcher, and Dispatcher. She has been with FDNY for 18 years. EMT Evans arrived at FDNY through the Cadet program in 2000. After graduating from the Cadet program, she was assigned to Station 17 in the Bronx. Her first memory of serving the community was when she handed out smoke detectors in Bed-Stuy and Harlem. She was proud to wear the uniform of an agency that showed compassion for communities experiencing high volumes of fires. Moreover, she realized she was not merely a piece of a larger, more complex matrix of services provided by the Department but also able to contribute by being present for a number of communities.
Currently, EMT Evans' day-to-day responsibilities as Exploring Program Coordinator consist of making sure that the Exploring Program runs efficiently, which includes organizing programs, events, uniforms, supplies, and advisors for "Explorers," in conjunction with the FDNY/ Youth Workforce and Learning for Life (the coordinating organization for the Exploring Program). Explorer events include open houses and competitions at the Rock. As someone who cares deeply about the education and advancement of youth, EMT Evans also supports the Youth EMS Academies, FDNY High School initiatives, FDNY interns, as well as initiatives and retreats sponsored by the Chief Diversity and Inclusion Office.
One of EMT Evans' most memorable moments at the FDNY was when EMS Division Chief Marylou Aurrichio addressed the City's dispatchers several years ago. Chief Aurrichio's speech touched Evans deeply, making her realize that the work that she is doing does not go un-noticed and is both vital and appreciated by the Department. Aurrichio imparted a great deal of wisdom and respect for the job that day, inspiring Evans to even more than her best. Chief Aurrichio continued to mentor Evans by providing more training opportunities, greater responsibilities and more guidance for professional growth. According to EMT Evans, the Chief's positive feedback was proof that success was right within Evans' grasp.
"A person is more than their profession – it is their inner wisdom and appreciation for the job that carry them further than the confines of their title," EMT Evan says, realizing that one of her best gifts is the ability to find common ground and relate to everyone—regardless of their background.