FIREFIGHTER DAVANTE JAMES
Engine 93
Fire Operations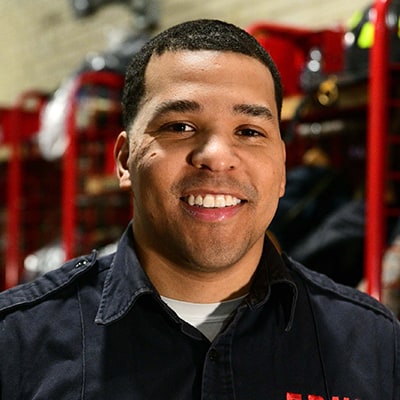 Firefighter Davante James served as an EMT for nine years when he began his career at FDNY. Always interested in emergency services and helping people in need, he worked for three years as an EMT dispatcher and later became a Firefighter in 2017. Firefighter James is assigned to Engine 93 in Washington Heights.
Most of his family members are police officers; he is the first in his family to become a Firefighter. He says his family members are very proud of him and often celebrate his career as a Firefighter.
Firefighter James has been a mentor for two years for the Department. He says that being a mentor and a leader both require patience —not just by teaching but also by serving as an example. He also believes that in addition to having mentors, having sponsors on the job is important because sponsors usually have more years of experience and can impart a great deal of wisdom.
While mentoring, Firefighter James always focuses on the positive. He says, "In life we will always have roadblocks and if you only focus on the negative you will lose hope. As a mentor, I strive to be a positive influence on my mentees and give them the courage to see beyond challenges with the faith that no matter what the circumstances, they will succeed." He is always willing to do what it takes to get the job done.