Deputy Chief Renae Mascol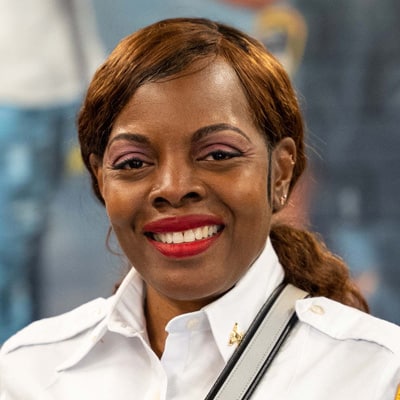 1. What is your name, title and number of years at FDNY? Where are you currently assigned, and what are your work-related responsibilities?
My name is Deputy Chief Renae Mascol, and I'm currently assigned to EMS Division 6 in Manhattan. I have been in service for 28 years.
My role is to mentor newly assigned station captains, respond to and coordinate the activities of EMS at high-profile incidents and ensure that each station is adequately staffed and that units are responding in a timely manner to assignments.
2. What called you to a life of public service at FDNY?
Initially, I joined the FDNY looking for great benefits and job security; nevertheless, six months into the job, I realized that there was way more at hand—I felt like I was making a change in people's lives. That's why I am still here after almost 30 years: having the opportunity to be of service to people and supporting them during an emergency. I feel like I help folks get a second chance.
3. Can you share one of your most memorable moments while working at FDNY?
One of the most memorable moments I've had happened while I was in Brooklyn. I had a patient who'd suffered some severe trauma to her upper body. She had an item that was lodged in her throat and was unconscious. That was one of the toughest jobs, and I will be honest: I didn't think that woman, who just happened to be elderly, would make it. But my partner and I figured out a plan. Not only did she survive that extremely traumatic situation, but she came to visit me a few months later. That was definitely one of the highlights of my time here.
4. What does "We Are FDNY" mean to you?
"We Are FDNY" is about taking care of the people of New York City and doing it to the best of our ability. It's about comforting them in their time of need and handling the situation with grace and precision while under great pressure. We frequently give the people we serve a second chance at life.
5. What is your superpower (best quality or skill)?
My superpower was developed from many years of practice, but I pride myself on being able to focus under any type of pressure. Many times I'm called to focus while taking care of people in crisis and serving as a lifeline.
6. How does your role support the public safety mission of the FDNY?
Quite literally, I'm a lifeline: being there when people are in a time of need, taking care of them and ensuring they arrive at a hospital safely. Reassuring them that they'll be OK and that I won't leave their side.