CAPTAIN LEONORE JOY GARCIA
Station 19
EMS Operations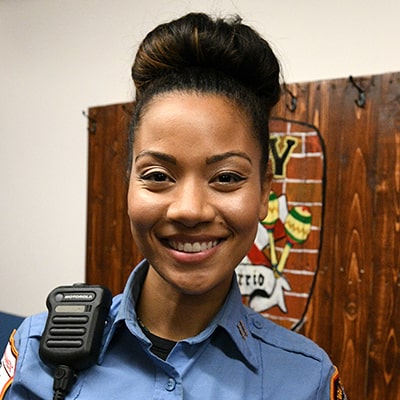 Captain Leonore Joy Garcia joined the FDNY when she was 18 years old. She took an elective course in emergency medical services, when she thought she was going to be a Veterinarian Technician. The EMS course changed her life, as she realized that she was more passionate about helping people. She says she was inspired to join the FDNY because she grew up in a community that was all to often filled with violence and illness. Now, she gets to be on the other side of the door when EMS pays a visit. She is a leader in the Department, a Captain at Station 19 in University Heights of the Bronx.
She is a member and advocate of the Peer Support Team, which actively supports FDNY members with sustainable solutions through critical stress and traumatic challenges.
Captain Garcia defines trust as something that is built on a foundation of shared energy and vital qualities that provide necessary understanding and support. Trust is something that continues to grow and strengthen the foundation, built each time members really get to know one another. She says you need to learn more about the people you work with than just their name and badge number. Taking a personal interest in each of her members is something she takes to heart.
"Self-care is vital," she says. "A release or clearing of the mind can aid in how each patient is treated. If you feed your mind, your body, and your spirit, it will invigorate you to serve the community better." She says, "Our patients change day to day, but the exchange and care we provide for them leaves a lasting impression."