EMT Gary Hui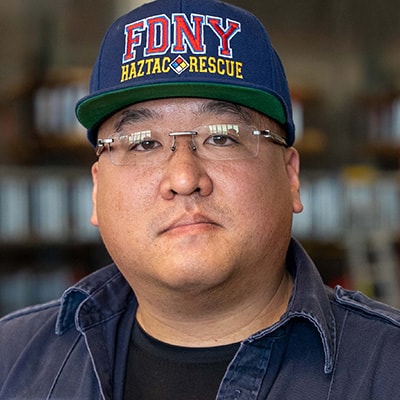 EMT Gary Hui was awarded the Christopher J. Prescott Medal at the 2021 FDNY Ceremony.
---
1. What is your name, title and number of years at FDNY? Where are you currently assigned, and what are your work-related responsibilities?
My name is Gary Hui, and I'm an EMT. I've been with my department for 9 years.
I'm currently assigned to the Medical Equipment Unit in Long Island City. Our main responsibility is receiving equipment, tracking it and distributing equipment to the units so they have everything needed to execute their protocols properly. Before this assignment, I was a Haz-Tac EMT for 8 years.
2. What called you to a life of public service at FDNY?
My brother-in-law is a firefighter, and he encouraged me to join. On his advice, I took a class and became an EMT. After being certified, I volunteered for a private EMS company [for 2 years] before deciding to follow the process for joining the FDNY.
I've found that I really enjoy helping people. People call us in their darkest times, and it's a tough job to manage—but I appreciate that through our accomplishments, every day, we're able to help folks during their hour of need. And, hearing people express their gratitude makes it all worth it. It's truly the best part.
3. Can you share one of your most memorable moments while working at FDNY?
There are so many! I think my biggest one is when EMT Samuel Wright and I were awarded the Christopher J. Prescott Medal in 2021.
On a random afternoon, April 2020, I saw thick, black smoke in my responding area. We were close to the event, so we headed there. As we got closer, I noticed there was a dump truck on fire, and panicked civilians started waving at us. We were told there was a driver stuck inside a vehicle.
Immediately, we jumped into action. We retrieved the necessary equipment from the ambulance and started trying to get the driver out the vehicle. It all happened so fast, but Sam and I were able to get him out. The tires exploded, but everyone was safe, and we handled the situation. Afterward, the patient was transported to hospital.
4. What does "We Are FDNY" mean to you?
"We Are FDNY" represents our ability to work as a team: EMS and fire personnel coming together to ensure that we keep people safe and do our job well.
5. What is your superpower (best quality or skill)?
Our job is super stressful. We're frequently faced with crises. Nevertheless, my superpower is the ability to stay in good spirits. I try my hardest to not let anything bother me and to help those around me stay positive. I am always happy here at work and out on the streets.
6. How does your role support the public safety mission of the FDNY?
As part of the medical unit, my job is to make sure our essential equipment is ready, functional and in good shape to be on the streets. Our work is integral to our mission, as we enable those in the field to save lives.