DIVISION CHIEF GRACE CACCIOLA
Headquarters
EMS Operations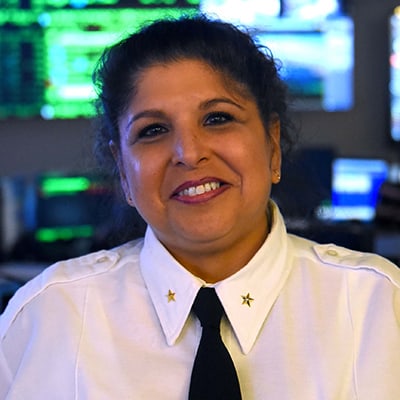 Division Chief Grace Cacciola has been a member of the FDNY for more than 30 years. When she first joined, she only intended to stay for one year as a pre-med major in college who wanted exposure to working out of the hospital. But after working, she was hooked. "I knew this was my calling when I started helping people daily."
She says, "what I love about FDNY is that we help people every day. We go home with a daily sense of accomplishment." Being in an environment where members provide emotional support for those who lose loved ones on the job also solidified that a career at FDNY was her calling.
"Being authentic on the job is important because it allows people to be true to themselves and others." She says, "trust is very important because the work that we do every day may sometimes be dangerous, so you need to have trust in the people that you work with." Chief Cacciola really values respect, which is the foundation that she uses to foster an environment built upon teamwork by getting to know her colleagues.
Chief Cacciola is on the Board of the FDNY Columbia Association, an affiliated organization celebrating Italian heritage and is also a leader and founder of the Women's Benevolent Association.