Deputy Chief Telina Lloyd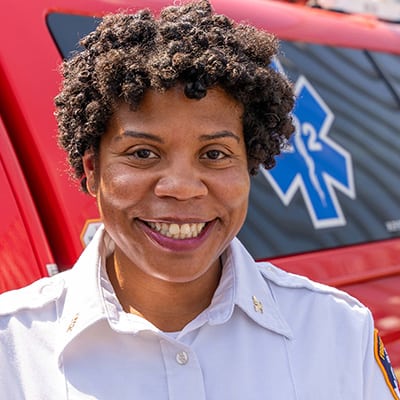 1. What is your name, title, and # of years at FDNY? Where are you currently assigned and what are your work related responsibilities?
My name is Deputy Chief Telina Lloyd. I have been at FDNY since 2005, with 17 years of service. At present, I oversee the Office of Medical Affairs and aspects of the online medical control. My responsibilities include advocating for our medical directors/doctors who work for us, ensuring crews are aware of the latest protocols and supporting any medical advisory directives that come out. I am a liaison between the medical side and operational side for our Department, making sure we work collaboratively and smoothly.
2. What called you to a life of public service at FDNY?
I always wanted to be a doctor. In high school, I took an EMT course and got my certification in the 12th grade. Shortly afterwards, I applied and got a call back, and I've been here ever since.
3. Can you share one of your most memorable moments while working at FDNY?
I have to choose my experiences working during a pandemic. There wasn't one particular moment, but the overall experience. Being a captain in the field during that time, I witnessed how resilient my members were with their schedules [frequently changing at the last minute], managing their fear of bringing home COVID, and still coming into work. A lot of our staff got sick, and we still have members who are recovering, unfortunately. The fact that we were able to do all of this during such an unsure and chaotic time—I know my team members are truly brave and amazing people.
4. What does "We Are FDNY" mean to you?
From my perspective, "We Are FDNY" is a reflection of EMTs, paramedics, lieutenants, captains and everyone else [including our medical directors and staff and our folks at Headquarters] working together as a team. We all work together to provide the best care to New York City and its residents. If you get sick here or run into trouble, know you're going to be okay. We got you!
5. What is your superpower (best quality or skill)?
My superpower is my ability to communicate and the skills I use to aid me. Generally, I'm able to get to the heart of a matter with my team or whomever I'm talking to. I'm a very attentive listener, and having those skills are vital in the field: whether you're talking to a patient, a family member, a bystander or chief, you have to have good communication skills and the ability to connect.
6. How does your role support the public safety mission of the FDNY?
My role supports the public safety mission of FDNY by making sure the crews in the field know the most up-to-date medical procedures, which come from the Office of Medical Affairs, while serving patients. Working with operations to make sure that we're all on the same page. Making sure we are following the mission, which is ultimately via the best prehospital care.