FIREFIGHTER MICHAEL RYAN
Ladder 126
Fire Operations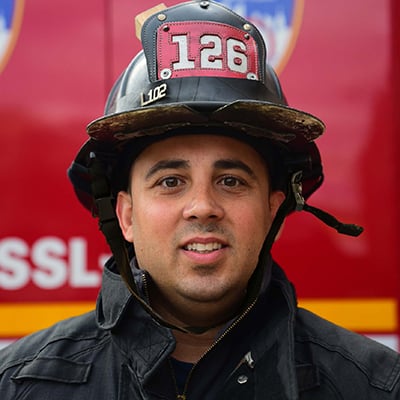 Firefighter Michael Ryan was inspired to join FDNY by his father, who was a Firefighter. Seeing his father come home from work with a smile on his face every day made Ryan realize that it was the career path he wanted to follow as well.
He says he was inspired to be the best Firefighter possible by a Lieutenant at his firehouse, who was always calm, cool, and poised, including always having a positive demeanor with the public and his colleagues.
Learning from those before him, like the Lieutenant, helps him guide new Firefighters in the right direction. Firefighter Ryan mentored many Firefighters on the job. In his 15 years at FDNY, he says "training has continually improved, and more studies have been conducted that changed procedures for the safety of everyone."
Firefighter Ryan says, "Always be on top of your game when it comes to training," which is enhanced by the other experiences and skills that people bring to the job. "Whether you have experience as an electrician, carpenter or computer technician, these are all helpful skills that will lead to the success of the team."