Lieutenant Alicia Elkadi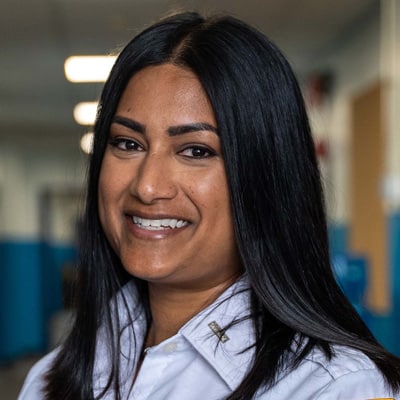 1. What is your name, title and number of years at FDNY? Where are you currently assigned, and what are your work-related responsibilities?
My name is Alicia Elkadi, and I am an EMS lieutenant. I have been with the Department for 16 years, and I'm currently assigned to the EMS Academy South at our new Howard Beach location. I work with our special projects, currently focusing on our self-defense class. It is a brand-new department in response to feedback we received from members in the field. We're establishing a program to help teach our personnel to use techniques to defend themselves should certain situations arise.
2. What called you to a life of public service at FDNY?
Being part of FDNY seemed interesting and exciting. Although I am in an office position right now, it doesn't feel like an "office job." Every day is different: It's you and your partner responding to people when they need you the most. Helping to support our members during their worst days is a regular occurrence for us, and we strive to support them the best way we can.
3. Can you share one of your most memorable moments while working at FDNY?
There isn't one specific moment, but more so, a collection of experiences that makes my work here memorable. This job sometimes leads us into dangerous situations. Nevertheless, people always have your back. If someone calls over the air, asking for help, everyone responds. I frequently find myself relishing in the camaraderie of being out in the field. We're truly a brotherhood/sisterhood. Sometimes I miss the closeness experienced when responding to emergencies, and it's what I'll always remember [and miss] the most.
4. What does "We Are FDNY" mean to you?
"We are FDNY" reminds me that we're a team, a family. We all work together under one mission. Sometimes I'm at work more than I am at home, so I try to be more than a supervisor to my members. I've been around for many of my team members' life events the birth of their children, weddings, funerals—we've shared several key moments, both happy and sad.
5. What is your superpower (best quality or skill)?
My superpower is acceptance. I strive to accept everyone at work equally and encourage folks to unite as a unit, a family. Constantly, I seek to bring everyone together.
6. How does your role support the public safety mission of the FDNY?
We train our members to be safe so they can serve the public to the best of their ability. People call in to ask for help in moments of crisis, sometimes needing information and resources for safe, healthy living. We also do "BLT updates," so whenever there are changes with our protocols, or if members need to learn something new, we make sure there's time to address that every six months or so.