Firefighter Osmar Martinez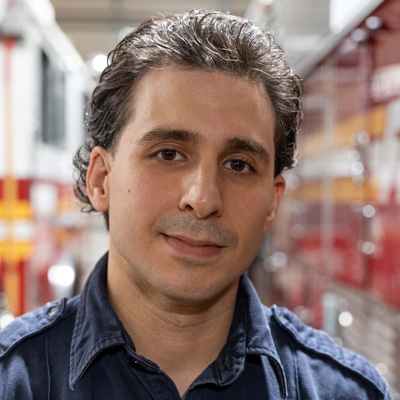 Firefighter Osmar Martinez was awarded the World Trade Center Memorial Medal at the 2018 FDNY Medal Ceremony.
---
1. What is your name, title and number of years at FDNY? Where are you currently assigned, and what are your work-related responsibilities?
My name is Osmar Martinez, I'm a firefighter and, as of December, I will have been in service for 7 years.
My work-related responsibilities are to support day-to-day operations of the firehouse. Everyone pitches in here, and everybody does their share of work inside the firehouse: cleaning, cooking, drilling, and making sure everything's in top shape.
2. What called you to a life of public service at FDNY?
When I was younger, I had an interest in two things: problem solving and having a sense of purpose. Before being a firefighter, I was a volunteer for an ambulance corps in Queens. I'd never had friends or family who were in the Fire Department. While I was volunteering with the ambulance corps, the captain of the station was also a rescue medic, and he was preparing to take a promotional test. He encouraged all of us to take the open competitive test and to join.
I took the test in 2011 and just waited. While I was waiting and eventually forgetting that I took the exam, I got into technology. I began to work for the Department of Environmental Protection, while also going to college. Soon after, I received a call from the FDNY and began as soon as I was able to join.
3. Can you share one of your most memorable moments while working at FDNY?
There's a memorable moment from when I was a probationary firefighter. I was only a few months in and, unfortunately at that time, there was a retired member who had a 9/11-related illness. While I was there, I was told it was important to step up and support my fellow members. So, around the time I started, we started helping the retired member and his family. We'd help them with transportation to and from medical visits and with other personal matters. Unfortunately, he passed away, but the whole team helped support the family.
4. What does "We Are FDNY" mean to you?
"We are FDNY" highlights the different races, ethnicities and cultural upbringings we all bring to work. I appreciate that all of us, regardless, take time to serve—sometimes sacrificing our own lives—to keep residents of New York City safe. Even though we come from different walks of life, this is something that unites us. We Are FDNY!
5. What is your superpower (best quality or skill)?
Everybody makes mistakes. I'm the kind of person that takes ownership when I make one: I own it, analyze it and try to learn from it. This is my superpower.
6. How does your role support the public safety mission of the FDNY?
My role is to protect property and save lives in New York City. At the end of the day, each individual makes up a part of the team, and the team, as a whole, works to solve the crises we respond to.