NICOLE SIMMONS
Deputy Director
Legislative and Intergovernmental Affairs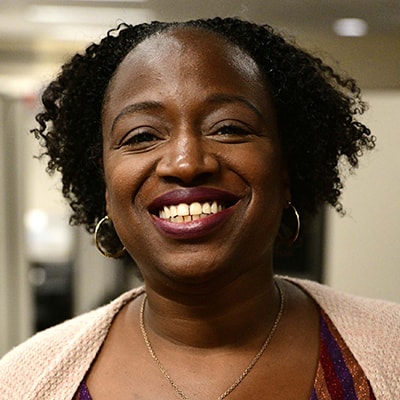 Deputy Director Nicole Simmons was inspired to join the FDNY by her potential role in having an influence on providing more access and equity for New Yorkers. She started as the Chief of Staff in the Office of Recruitment. There, she helped to create new professional pathways for FDNY High School and FDNY Exploring Program youth by conducting workshops on job-readiness, especially for roles at FDNY. She finds joy in seeing the youth years after they have graduated and advanced to working at FDNY.
Simmons now is the Deputy Director of Legislative and Intergovernmental Affairs, where she communicates with various units and bureaus throughout the Department to help best represent the needs of FDNY on the city and state level. "I'm proud to help guide and support the passage of legislation to ensure that New Yorkers are safer," she says.
She emphasizes the value of working in a supportive team environment because "you can't do your best work without having a team grounded on trust." The best advice she has gotten is to "not be afraid to learn something new, ask questions about it, and learn from the people around you. You never know if you'll become passionate about what you learn and make a positive difference as a result unless there's a strong foundation of trust."