FABRICIO CARO
Director
Community Affairs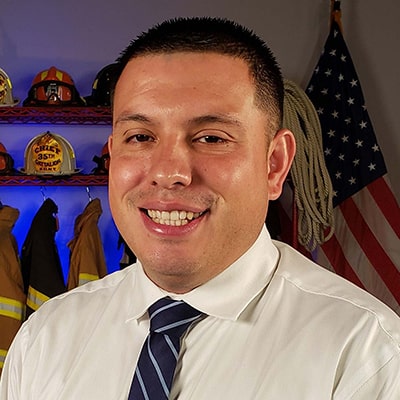 Director Fabricio Caro is grateful to work at the FDNY, "the premier fire department in the world." He joined the Department because he wanted to serve his community, and as Director of Community Affairs, he helps to deepen the connections that the FDNY has with every community in New York City each day. Caro works on all levels of public outreach, fire and life safety education, and community engagement. He schedules and staffs presentations, assigns resources, monitors meetings, and works with first responders to train New Yorkers to be non-certified bystander CPR-trained. He helps to build bridges with the diverse communities that exist in the City, which requires him to know who the main stakeholders are, what the cultures and practices are within communities, and ensure that the messages sent to communities are done in a culturally sensitive and effective way. He finds working on public campaigns such as organizing smoke alarm installations, fire prevention workshops and community forums, to be both rewarding and fulfilling.
He loves the sense of family at FDNY. When you walk into any FDNY facility, FDNY members will treat you like family. He says, "I love that at the FDNY people always make themselves available to assist you, no matter what the task."
Caro is extremely dedicated to the work that he does. He says, "If I'm not doing the best that I can, I am doing a disservice to the people I'm providing a service for."
He is inspired by Malcolm X who says, "education is the passport to the future, for tomorrow belongs to those who prepare for it today." He believes that everyone should be equipped with the necessary tools they need to succeed in order to make this world a better place. He says, "always listen, adapt when it comes to emergency situations, and don't be afraid to be yourself."
He is also on the Executive Board of the Hispanic Society.