Euis Thompson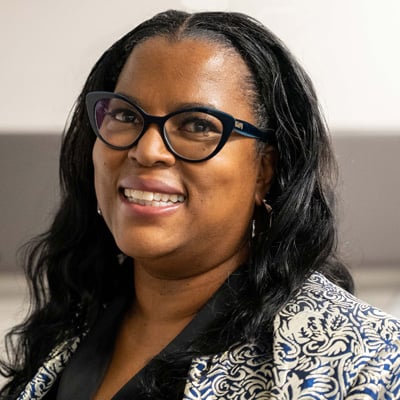 1. What is your name, title and number of years at FDNY? Where are you currently assigned, and what are your work-related responsibilities?
My name is Euis Thompson. I say it like that because a lot of people get confused and they call me everything but my name. I am an investigator in the Candidate Investigations Division (CID). I have been here for almost 25 years. I've worked in several areas within CID: I've done clerical work, answering phones, filling out applications when candidates reached out—whatever the team needed at the moment. Over time, I climbed the ranks and eventually became an investigator, which is interesting because when I started, there weren't any civil service titles for permanent investigators; it was just a provisional position.
2. What called you to a life of public service at FDNY?
I think it just happened. I didn't go out specifically looking for it. I was part of a work experience program, and our mayor at the time was recruiting participants, encouraging whomever was receiving public assistance at the time to get out and apply, and, everything started from there. This has been my first [and only] City job, and I enjoy what I do.
3. Can you share one of your most memorable moments while working at FDNY?
FDNY is an agency that's known all over the world. One of my most memorable moments was when the attacks on September 11th happened. While we were managing the consequences of that painful moment, people from around the globe showed love for us. FDNY's service and sacrifice were recognized, and it illustrated our reverence globally.
4. What does "We Are FDNY" mean to you?
As a part of the CID, we all work together to accomplish our goal of helping onboard new members to the FDNY family. "We Are FDNY" personifies the idea that there is no "I" in "team."
5. What is your superpower (best quality or skill)?
I think, in total, that my superpower is rooted in love: I genuinely love what I do, which is why I've been here for so long. And because I've learned so much along the way, I strive to share what I know with my coworkers. If I see something needs to be done, I get it done so folks don't have to take the time to ask.
6. How does your role support the public safety mission of the FDNY?
The investigative process can be intimidating for candidates; the amount of information and paperwork requested can be demanding. Investigators work to ensure that candidates meet the minimum requirements needed to be part of the FDNY family, and incoming candidates may have different expectations. The process can be overwhelming, so I try to leave candidates with a level of clarity and understanding. Working in CID is a service to our entire organization at large and I truly give it my all.