FIREFIGHTER BERNARDO RODRIGUEZ
Engine 95
Fire Operations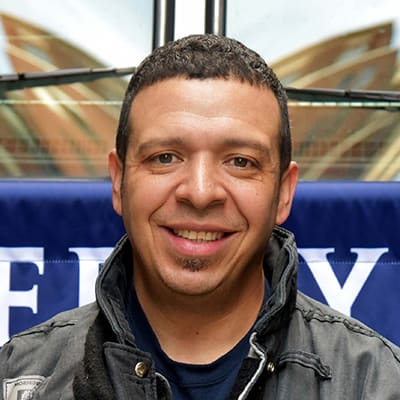 Firefighter Bernardo Rodriguez is from Washington Heights and currently works in Inwood, New York. He recalls his first time as a Probationary Firefighter at the fire house where he took down a door with other firefighters. He realized that trust is very important at the FDNY since each person's work as part of a team helps to ensure that everyone is doing their job. He says, "you're going to situations where trust is paramount." He believes that FDNY leadership wants you to succeed and the network within the fire department supports everyone for success.
He says that firefighters support each other on a personal level like a family, willing to be there for each other in personal circumstances. The support he receives from his fellow FDNY members is greatly appreciated. Firefighter Rodriguez said "[w]hen my dad passed away the whole battalion showed up to the funeral; that was pretty deep." He was touched by the support shown by the FDNY family. He believes you get what you put into it and there is much reward at FDNY.
"Firefighters are there for the community from opening up a fire hydrant to fixing a child's bike," he says. He recalls teenagers having memories of when they were kids, and he was there for them.
Firefighter Rodriguez is an Inclusion Advocate, and Vice President of the Board of the Hispanic Society.