Paramedic Juan Gavilanes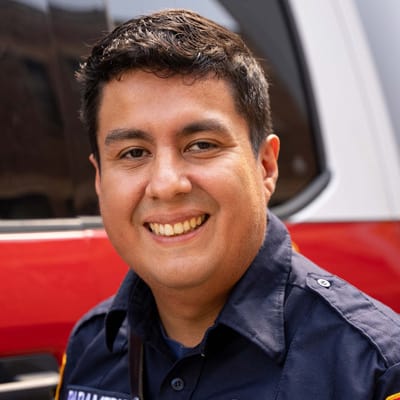 1. What is your name, title and number of years at FDNY? Where are you currently assigned, and what are your work-related responsibilities?
My name is Juan Gavilanes, and I'm a paramedic based in Station 31. I've been with the Department for about 10 years. On a day-to-day basis, I help provide life-saving treatment. Depending on the situation, I provide both basic life support (BLS) and advanced life support (ALS) to folks needing help, across New York City.
2. What called you to a life of public service at FDNY?
I was brought up in a Catholic family. We were taught to always help others when they need it, so I sought out the FDNY. Initially, I wanted to become a firefighter, but I was encouraged by our recruitment folks to start with EMS first. Once I got a taste for the emergency medical service, I just knew it was for me. It really felt like I gained membership to another family.
3. Can you share one of your most memorable moments while working at FDNY?
One time I was working with an amazing partner, Kenny Chan. During the early months of the pandemic, we were responding to a challenging emergency where someone was having difficulty breathing. All we knew was that it was in one of the buildings in downtown Brooklyn.
As we were going up the elevator, we heard the loud cries of someone. It turned out to be the person's mother, upon arriving at the scene. Her child was lying lifeless, not breathing at all. Luckily, with Kenny's skillful support, we were able to quickly resuscitate him. He was only seven when this happened. What made this memorable was how fast he went from being in harm's way to hugging his mother. We transported him to the emergency room, and he kept telling his mom how much he loved her.
4. What does "We Are FDNY" mean to you?
When I came to FDNY, I thought it was going to be like any other job: punch in, punch out and go about your day. But over time, I started to feel like I was a part of a family. I would greet the folks in the garage, and we built a camaraderie over time. We are all brothers and sisters, and "We Are FDNY" is an expression of that family.
5. What is your superpower (best quality or skill)?
My superpower is the ability to turn chaos into tranquility. When I'm on a work call, most people are expecting the worst. The situation is unpleasant and a nightmare for most. It's my job to assure them that I'll do everything that I can to provide comfort and help to everyone involved.
I'm sure this sounds easy, but it's a skill that takes years to develop: learning to tackle an urgent situation, helping keep people calm and taking command of a situation when someone's life may be on the line is no simple task. This takes a certain level of personal awareness, compassion, patience and professionalism to manage the situation, and at best, I'm able to help give a person another shot at life.
6. How does your role support the public safety mission of the FDNY?
Every time we have contact with a patient, my team and I are constantly assessing their state and collaborating to ensure we provide adequate treatment to save their lives. Sometimes we're also called to provide education to help minimize the chance that someone may end up in hospital later in life. We connect those folks with resources around the City, so they can be empowered and take care of their own health.