FIREFIGHTER BENJAMIN CHOU
Engine 298
Fire Operations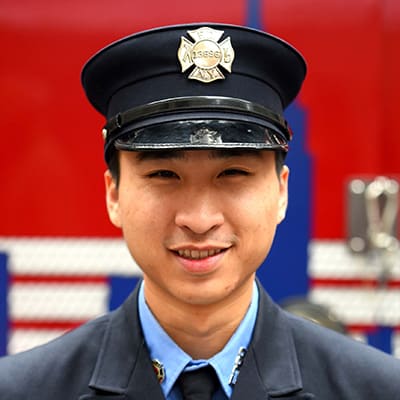 Firefighter Benjamin Chou believes authenticity is important on the job and honoring everyone's individuality is imperative. You could get to know your colleges better by doing activities outside of the firehouse. He has benefited from training in his firehouse from training drills and being prepared for every conceivable situation. The best tool that positively motivates him is watching senior firefighters work, who teach him. "I motivate others by doing the right thing and leading by example," he says.
The best ways the Department has engaged with the community is by sending programs from Community Affairs and Recruitment, where they go into the communities and have a presence. He learned a lot from a number of cultures represented on the job. Being part of FDNY Phoenix Society has given him the opportunity to experience many different Asian cultures, which are different in their own way. The Phoenix Society engages with the community from block parties, parades, fire safety engagements, to fire prevention. He loves FDNY for the good we done in the communities.
Firefighter Chou is the Vice President of the Phoenix Society, whose mission is to be the cultural bridge between the FDNY, its employees and the Asian communities of NYC.