Lieutenant Anna Schermerhorn-Collins
Engine 93
Fire Operations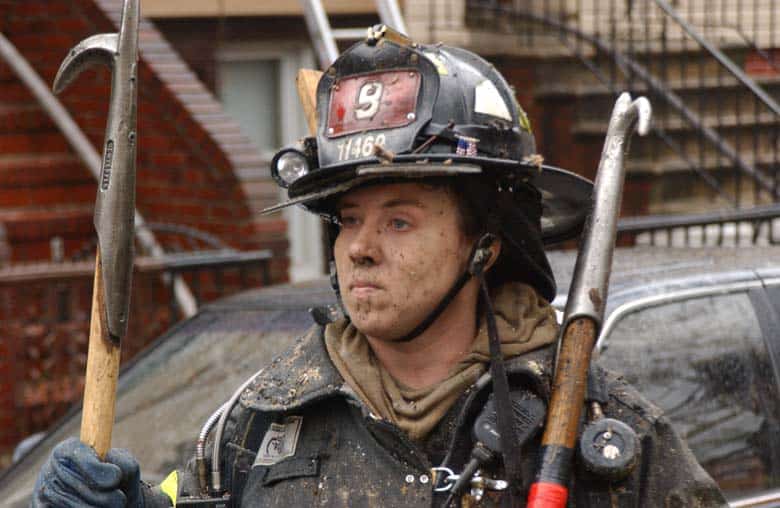 Lieutenant Anna Schermerhorn-Collins has been with the FDNY for 21 years. As a fire lieutenant, she is the front line supervisor at fires and emergencies. In brief, that includes mitigating hazards and emergencies, managing appropriate medical care, and ensuring the fire goes out. Her daily responsibilities also encompass fire education, inspection and prevention. Most importantly, her priority is to ensure that firefighters go home safe at the end of every tour. Lt. Schermerhorn-Collins loves that every day is different. She also loves the firehouse and riding around the neighborhood in a fire engine as part of the community.
Lt. Schermerhorn-Collins' interest in the Fire Department started when she painted a series of watercolors of New York City firehouses. It was then that the fire service was on her radar – the sights and screams of responding fire engines caught her attention. She then dug deeper and decided to give the Fire Department exam a shot. She had tremendous support every step of the way, which helped in her success.
Her first memory at FDNY was the first day at probation school when everyone arrived in business attire. Lt. Schermerhorn-Collins was the only woman in her class and felt self-conscious about not wearing a tie. She had cut her hair short, but felt it was still too long so she cut it even shorter to blend in. Probationary fire fighters were assigned to squads and arranged in height order. At 5'5," she should have been the last person on line, but the administrators didn't like the look of the one woman in the class being the last on the line, so they had her switch places with the man next to her. Her squad was great. Her class was great. They were a team.
According to Lt. Schermerhorn-Collins, becoming a firefighter changed her in various ways, one of which includes securing her financial future through retirement planning. It helped build her confidence, independence, and skill in handling challenges. There is great camaraderie shared with fellow firefighters. She has tremendous satisfaction and pride in her work and appreciation for the people served.