LIEUTENANT PRENTIS JACKSON
Engine 234
Fire Operations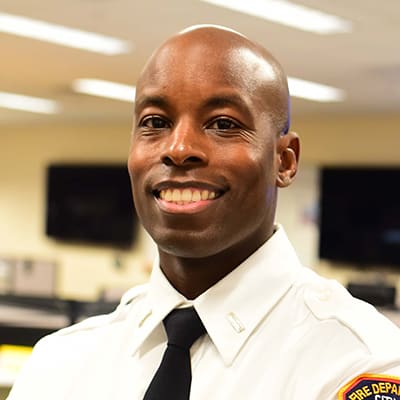 Lieutenant Prentis Jackson is assigned to Engine Company 234 and is currently serving as Diversity Advocate for the Office of Diversity and Inclusion. He feels fortunate to be an FDNY Lieutenant and is motivated by the love and gratitude he receives daily for doing his job.
He views the FDNY as a community of people from all different walks of life coming together to act as one. What inspires Lt. Jackson about the FDNY is seeing people working together to make the city a better place and helping the next generation of Firefighters become successful. Lt. Jackson says the FDNY is a selfless organization with members who are passionate about helping others. He says, "Seeing how much someone else loves what they are doing motivates me to be my best." He also believes the best way to engage with the public is by being accessible. His firehouse has an open-door policy, always making themselves available and allowing people to come inside.
Lt. Jackson attributes his success within the department to many individuals who took the time out to help him learn the job and get promoted. The FDNY taught him not to make assumptions about people superficially because he has learned that people have a lot of similarities regardless of their differences in background. He's proud to be an FDNY officer, leading by example with passion and dedication for the job.
Lt. Jackson is a member of the Vulcan Society, an affiliated organization of Black Firefighters open to active and retired members.