Firefighter Timothy Hynes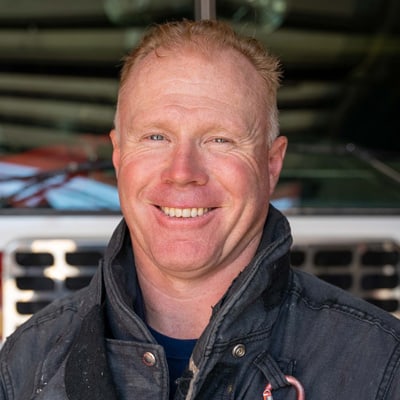 1. What is your name, title and number of years at FDNY? Where are you currently assigned, and what are your work-related responsibilities?
My name is Timothy Hynes, and I have been a firefighter at the Department for 19 years. I am assigned to Ladder 80 in Staten Island, and I'm the chauffeur for Ladder 80's truck. I drive whenever we are called to respond, and while all firefighters are responsible for the tools on the rig, my tool is the firetruck.
As a ladder chauffeur, I have to ensure that the Fire Department apparatus is working properly and is safe to travel to emergencies. It's my responsibility to transport the firefighters safely to the location of an emergency, and frequently I'm the intermediary between a dispatcher, our incoming units and the other firefighters in the company. My position is frequently filled by a senior member of the fire company.
2. What called you to a life of public service at FDNY?
I was a New York City teacher before becoming a firefighter—helping people is a part of my core nature. I've always appreciated firefighters' work ethic and their ability to collaborate to achieve tasks. Since I sat for the required tests, I've constantly looked forward to becoming a firefighter and doing the job.
3. Can you share one of your most memorable moments while working at FDNY?
Every year there's a "Tunnel to Towers" race hosted in memory of the 343 firefighters who died while serving on September 11, 2001. There's a banner for each firefighter who passed away, and I've had the honor of holding the flag for fallen firefighter Michael Judges. His family just happened to be at the race one year, and they approached me, introduced themselves and thanked me for holding the banner. It was a very touching moment, which reminded me of the seriousness of the work we do and how thankful people are for things we do regularly.
4. What does "We Are FDNY" mean to you?
When I think of "We are FDNY," the first thing that comes to mind is our uniform: When you put it on, you're a part of a team with common goals, and we achieve these goals through supporting each other and working together as a unit. We're all in at all times.
5. What is your superpower (best quality or skill)?
My superpower is my ability to collaborate and connect with others. I've always been involved with team activities and seek to bring people together. It is something that I do well inside and outside of my job here at the FDNY.
6. How does your role support the public safety mission of the FDNY?
Our public safety mission is a constant, ever-present thing here at the FDNY. The safety of the public is the most important thing—always the No. 1 priority for the organization as well as each member of the Fire Department. We're always vigilant with making sure that we're on our toes and ready to help folks while on or off duty.