DIVISION CHIEF KATHLEEN KNUTH
EMS Operations & Civilian Compensation Claims Unit
Bureau of Health Services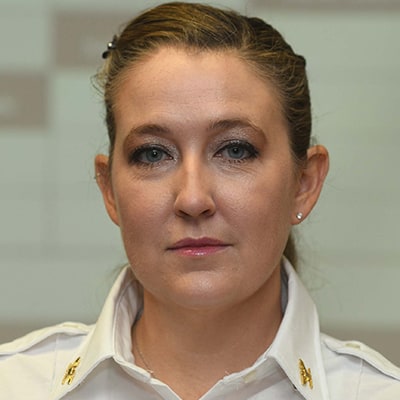 Division Chief Kathleen Knuth is assigned to the Civilian Compensation Claims Unit of the Bureau of Health Services at FDNY. She loves the sisterhood/brotherhood of the job and has been able to experience an incredible amount of diversity throughout her career. At FDNY, Chief Knuth works with colleagues from all over the world which has given her a deeper appreciation for all walks of life. She also enjoys FDNY open houses and block parties. At these events, Chief Knuth meets members of the community and invites them to visit EMS stations to check out equipment and ask questions.
From her experience in EMS Operations, Chief Knuth knows that leading with compassion and having a positive attitude towards your patients really makes a difference. She says that "supporting your training with compassion helps people feel that they are truly cared for." Chief Knuth encourages members to "take advantage of the wealth of experiences available to all FDNY members and believes there are always people willing to help if you are willing to listen and learn." She supports others on the job by making them realize that FDNY is not just about firefighting or providing medical care. "There are so many opportunities at FDNY," she says, "opportunities that should give everyone an opportunity to have a voice and seat at the table."
Chief Knuth serves as the President of Women's Benevolent Association, which celebrates and supports the success of all women at FDNY and the membership of all genders, ethnic backgrounds, races and cultures.