Firefighter Abraham Miller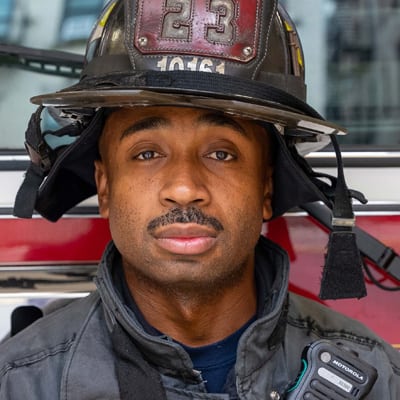 Firefighter Abraham Miller was awarded the Chief of Department Peter J. Ganci Jr. Medal and NYS Honorary Fire Chiefs Association Medal at the 2021 FDNY Medal Ceremony.
---
1. What is your name, title and number of years at FDNY? Where are you currently assigned, and what are your work-related responsibilities?
My name is Abraham Miller, and I'm a firefighter assigned to Ladder 23. I've been in service for 7 years. Our responsibilities include working in the ladder company at a fire to perform ventilation, forcible entry, search and rescue of people trapped, locate the fire so the engine can come in, put out the fire. Once there's water on the fire, we can search more aggressively.
We respond to numerous other calls, including people stuck in elevators, natural gas emergencies, car accidents—almost whatever the neighborhood community needs.
2. What called you to a life of public service at FDNY?
I grew up in Staten Island, and when I was about 18, my father (and the other elders in the neighborhood) encouraged us to take every City test that we could afford. I worked as a City driver for 9 years but became interested in the Fire Department after September 11.
3. Can you share one of your most memorable moments while working at FDNY?
My most memorable moment working at FDNY is receiving texts and pictures from the family of a little girl I helped rescue from a six-story building on fire in Washington Heights in September 2020. The family sent me her graduation photos, along with a message saying, "Thank you for making this possible." I get Father's Day messages from them, and they visit our firehouse's Christmas party! We've developed a strong familial bond.
4. What does "We Are FDNY" mean to you?
To me, "We Are FDNY" [is] to know that when New Yorkers need help, we'll show up.
5. What is your superpower (best quality or skill)?
My superpower is being calm under pressure, no matter the challenge.
6. How does your role support the public safety mission of the FDNY?
My role supports our commitment to public safety by making sure I am prepared to respond to all emergencies, protecting life and property and serving our neighborhood community.