Firefighter Kody Schrum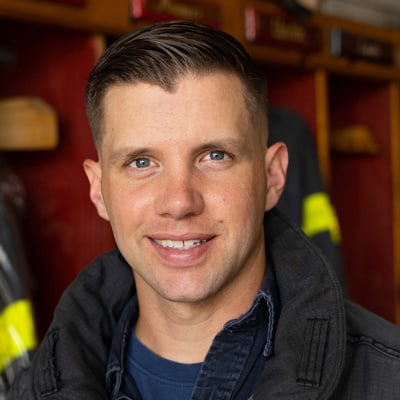 1. What is your name, title and number of years at FDNY? Where are you currently assigned, and what are your work-related responsibilities?
My name is Kody Schrum. I am a firefighter assigned to Ladder 107 in East New York, Brooklyn. I have been with the FDNY for 8 years.
As part of a truck company, our main goal is search and rescue. However, we also help the engine company to make entry, locate the fire, and support hoseline advancement to make sure the fire is put out. Other responsibilities include day-to-day firehouse tasks, cooking meals, drilling and (of course) keeping the firehouse clean. We live here around the clock, so we have to keep things tidy.
2. What called you to a life of public service at FDNY?
I grew up around the fire service. I'm from the Midwest—the Western part of Nebraska—and my father has been a firefighter for approximately 45 years now. My grandfather was also in the fire service. I see the passion my father had for it, and I always thought that was a good thing.
When it was time to leave high school, I was a part of the fire department in my hometown as a junior firefighter. So, I made the decision that I wanted to come to New York and join the FDNY one day. I did my homework and researched what I needed to do. I joined the Marine Corps [working as a firefighter, actually] and was deployed to Afghanistan in 2010. We dealt with IED [improvised explosive devices] explosions and people trapped under collapsed buildings. After exiting the Marine Corps, I took a government job as a contractor, doing a job similar to what I did for the Corps. Two years after formally applying to the FDNY, I got a call to join.
3. Can you share one of your most memorable moments while working at FDNY?
The most memorable moment is not just one instance. I really enjoy when we get assigned new firefighters. They bring a spark of energy to the firehouse, and it feels like everyone is energized and committed to our cause. Everyone can relate to what it's like to be a new firefighter, and seeing new folks reinforces why you're here. Over time people get a little complacent, and it's nice to have folks come in and reignite that spark.
4. What does "We Are FDNY" mean to you?
"We Are FDNY" represents the idea that the FDNY is full of people with different backgrounds. You learn a lot about people from just being at work and going out responding to emergencies. It forces you to engage with different cultures. If you come to this job with an open mind and a willingness to accept different cultures, what you can learn from people is endless. To me, that is what FDNY is: a strong, diverse group of people.
5. What is your superpower (best quality or skill)?
Teaching is my superpower. One of my favorite things is to pass along knowledge. My motto is, "The more you learn, the more you teach." My job is dynamic: Everything changes always, and we all rely on each other. So, if someone knows something, it's important to share. I also think it's important to consider that everyone learns differently, at a different pace and in different ways. I've learned how to teach people, and if they don't get it one way, I'm confident I'll figure out another way.
6. How does your role support the public safety mission of the FDNY?
My role is to be prepared to protect and save lives to the best of my ability. It's also my job to make sure I pass along my knowledge to new team members; to help them be a more well prepared workforce. This enhances public safety and supports our mission at FDNY.