PARAMEDIC ALEXIS GONZALEZ
Station 7
EMS Operations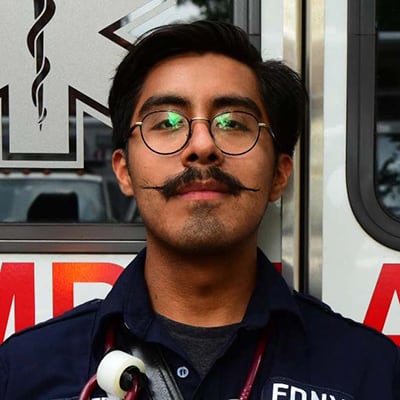 Paramedic Alexis Gonzalez joined the FDNY in 2015 and responds to emergencies out of Station 7 in the Chelsea neighborhood of Manhattan. What he loves about FDNY is that on a good day, he can really see all the pros of this job and when it's starting to become a bad day, the day can be completely turned around by a single action that he is being called to do. He says, "I'm sincerely grateful for the opportunity to save lives and bring new ones into this world." The opportunity to serves others brings the sincerest form of gratitude that he will ever receive from patients, family or even complete strangers.
The quote that he lives by that has helped him in his work is "Is it true? Is it kind? And is it necessary" by Bernard Meltzer. He can ask himself those questions in any situation and they always steer him in the right direction, both personally and on this job.
Paramedic Gonzalez's piece of advice for those who want to join FDNY EMS is "consider what it is you want to put in and what you want to take from this career. It is an impossibility to become financially wealthy on this job, but all of your riches will come from the knowledge and experiences that only this profession can provide."