Deputy Chief Paul Miano
HAZTAC Battalion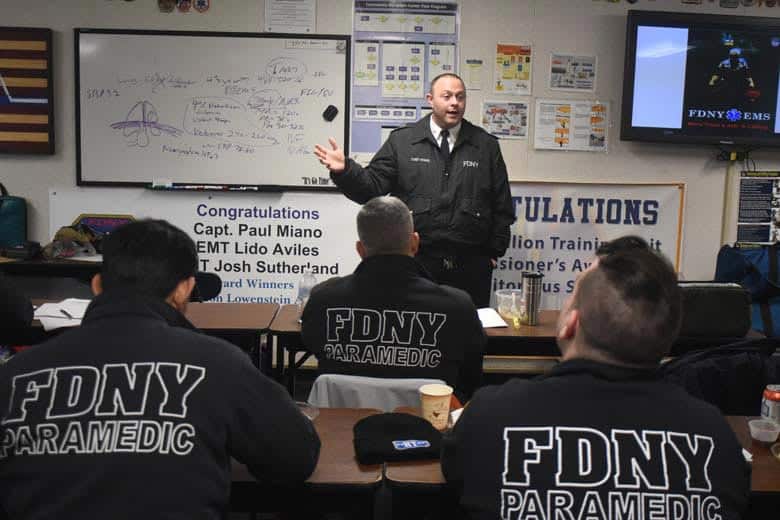 Paul Miano, Deputy Chief of the FDNY HAZTAC Battalion, has been with the Department for over 18 years. In his current role, Deputy Chief Miano oversees the operations of the HAZTAC Training Unit and 39 Specialty EMS Units Citywide, 12 HAZTAC Officers, and 1 HAZTAC Captain. He is also a representative of the Chief of EMS in interagency and interagency projects and meetings.
After becoming an EMT and working for private ambulance companies, Deputy Chief Miano felt his skills and knowledge could be best served responding to medical emergencies. He knew that the FDNY offered a tradition of excellence that was unparalleled and would provide the opportunity to work alongside the world's best prehospital medical providers.
One of Deputy Chief Miano's first memories of FDNY occurred when he was managing a restaurant. After getting to know a frequent customer of the restaurant who was an FDNY Paramedic, he was offered the opportunity ride along as an observer on the Paramedic's ambulance. Deputy Chief Miano was already an EMT, waiting to be called by FDNY EMS. He loved the excitement responding to calls that day. After those 16 hours, Deputy Chief Miano knew that he was destined to work for FDNY.
Modeling the hard work and dedication learned on the job is also important for Deputy Chief Miano to model to his three sons. Even they know that Deputy Chief Miano is constantly presented with unknown challenges but still must respond under all circumstances, whether familiar with them or not. Dealing with the unexpected is what helps keep Deputy Chief Miano on his toes.