Dr. Shenecia Beecher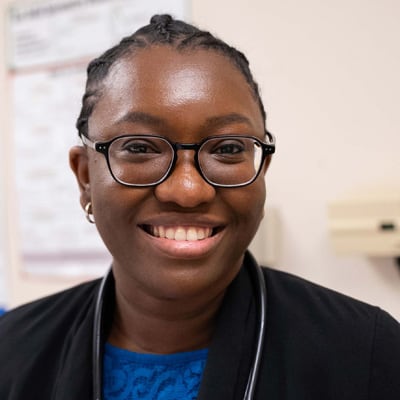 1. What is your name, title and number of years at FDNY? Where are you currently assigned, and what are your work-related responsibilities?
My name is Dr. Shenecia Beecher, and I'm the deputy chief medical officer for annual monitoring and candidate evaluations at the Bureau of Health Services. I've been with the Department for 8 years.
I oversee the annual monitoring of bureau field services and all the candidate evaluations. I have a final say in evaluating the candidates who apply for the Fire Department, fire and EMS candidates, as well as some civilian titles. I supervise the medical officers who see these candidates and review all appeals for disqualifications, including the appeals to the Civil Service Commission. Lastly, I'm also one of the three medical review officers for the FDNY. I review all results for drug screenings and fitness for duty evaluations as requested for any member who may be having issues. I also see members who are on long-term medical leave for various issues, including cancers.
2. What called you to a life of public service at FDNY?
My journey here has been kind of long and winding. I've always been invested in community service, even going back to my high school and college days; I did a lot of service with various organizations. My role is a natural progression of practicing medicine in a public service setting. It has been extremely rewarding and a huge plus in my life.
3. Can you share one of your most memorable moments while working at FDNY?
I see a lot of members who are very ill. One memory that sticks out to me features a member who was going through cancer: Every time I spoke with them, we'd have a one-hour conversation. Even if he said he was OK, it felt like I was an anchor for him. These conversations gave a lot of meaning and significance to the work that we do. I valued the time we had together because these moments are rare. I work in a fast-paced environment, where we see hundreds of members every day, so sometimes having the chance to sit and talk with someone—especially at this length—allowed for me to see how our work makes a difference. It reaffirmed what we do and why it's important. I've enjoyed being there for folks going through a difficult time and giving them the support they need.
4. What does "We Are FDNY" mean to you?
"We Are FDNY" is a symbol of the Fire Department's commitment to diversity and increasing our diversity over the years. It's important to show the world that this is a commitment for us. We value people from different backgrounds, cultures and opinions that embody our Department.
5. What is your superpower (best quality or skill)?
My superpower is having patience. Many times this job can be stressful and very trying. I'm also a mom, so I'm constantly exercising my patience and working on improving daily.
6. How does your role support the public safety mission of the FDNY?
What we do in the Bureau of Health Services is fitness for duty: fitness for duty for members and fitness for duty for our candidates. We make sure our members are fit for their job, that they're supported in this process and they meet all the requirements to do their job, so that they can go out and successfully perform the public safety missions of the Department. We support our members to be ready to serve.