ASNAN RIAMONI
Supervising Inspector-II
Public Buildings Unit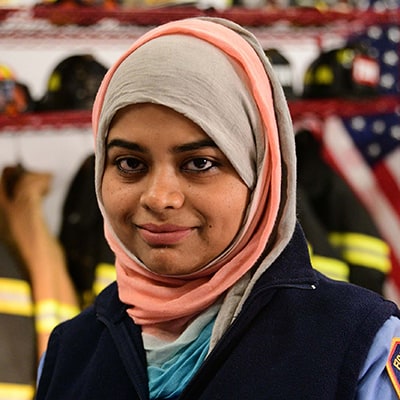 Asnan Riamoni is a Supervising Inspector at FDNY and has been with the Public Buildings Unit for 10 years. Fulfilling her daily inspector duties include daily check-ins with staff, supporting inspectors in the field, and carrying out emergency action plans in daycare centers across the city. Inspector Riamoni is honored to be able to give back to her family, community and country through the job. She's passionate about ensuring the safety of children and has three children of her own. They are very proud that she's a member of the FDNY and have invited her to their schools' Career Day to talk about her work and love for the job.
She enjoys educating New Yorkers about public safety and fire prevention. Her motivation style both professionally and personally is based on hard work, honesty and flexibility. She believes that "by working hard nothing is impossible in life" and brings that mindset to work every day. She says, "patience, hard work, and honesty are keys to success."
In addition to serving 10 years with FDNY and overseeing the safety of daycare centers in the city, Inspector Riamoni also holds Bachelor of Science in Chemistry.