Gonganlou Newenle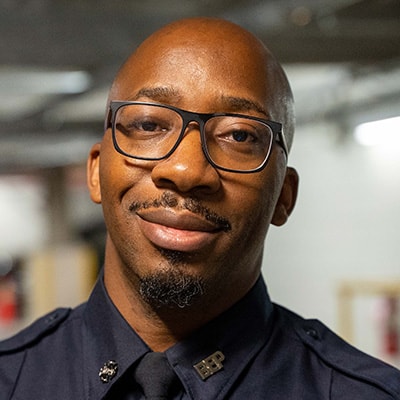 1. What is your name, title and number of years at FDNY? Where are you currently assigned, and what are your work-related responsibilities?
My name is Gonganlou Newenle. I am a fire prevention inspector, and, I have been on the job since April 2022. It's been just about 6 months.
Currently, I work with the Bureau of Fire Prevention. Each unit is different, but our main focus is learning fire code, having an understanding of required reporting and documentation, and ensuring that locations are up to code. Most of the sites we visit are residential, but every now and then we'll visit a commercial property. We'll meet with a contact who's tasked with testing a building's fire system. Usually, the building owner or superintendent is there. We help ensure things are working (or not), finish the necessary paperwork and then move to the next location. We are here to make sure that all systems are up to code and safe.
2. What called you to a life of public service at FDNY?
At my last job, I was a fire life safety director. I felt like I could do much more and wanted to become more knowledgeable, but didn't know how. There was a situation where I came across some fire inspectors and took the opportunity to ask questions about how they got their jobs. I was told, "What you're doing is on a smaller scale, barely touching the surface…There's a lot more to it." They helped me understand what was needed, and when I had an opportunity to take the necessary test, I passed and was very excited to join as an inspector at FDNY.
3. Can you share one of your most memorable moments while working at FDNY?
So far, my most memorable moments have been with my classmates: learning fire code, bonding and cracking jokes, and working with our teachers (specifically Chief Kaufmann and Chief Martinez). Learning has been much more enjoyable because I've been able to do it with these folks.
4. What does "We Are FDNY" mean to you?
"We Are FDNY" reminds me that regardless of where you are in the organization, our main priority is ensuring the safety of New York City and making sure that our people are safe while in the field saving lives as well as preventing emergencies.
5. What is your superpower (best quality or skill)?
My superpower is a drive to constantly be better. As a newer member, I'm always wanting to learn and grow. Sometimes I find myself fixating on my tasks so I can master them.
6. How does your role support the public safety mission of the FDNY?
My role as an inspector is to ensure that sites are much more safe and prepared to handle an emergency than when I first arrived. My team upholds the safety of NYC and its people first and foremost.