FIREFIGHTER MOHAMMED ABDALKWY
Engine 325
Fire Operations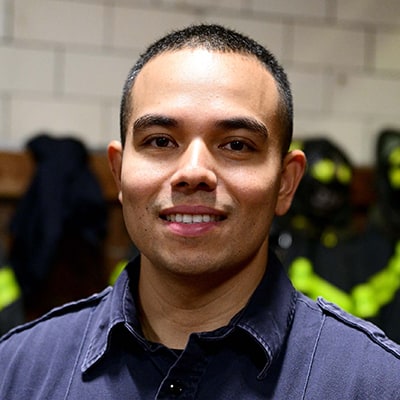 Firefighter Mohammed Abdalkwy is assigned to Engine Company 325 and has been on the job since 2014. He was inspired to have a career in public service by his brother, who is a police officer. For Firefighter Abdalkwy, the best part of the job is its unique culture and being able to bring his life experiences to every tour. His firehouse is his second home, a place where he can be himself and work with a team. They rely on each other from the Probationary Firefighters all the way up to the senior members.
As a junior firefighter, he feels a sense of pride returning from a fire knowing all members did their part to keep everyone safe.
Firefighter Abdalkwy believes the FDNY offers the best training in the world. Being willing and prepared for every tour by studying new procedures and drilling daily are values that have been ingrained in him since the Fire Academy. He says the FDNY benefits from diversity because NYC is a diverse city and it helps the communities served to see a familiar face. Having a diverse background and the ability to speak multiple languages has proven useful in the field to him in multiple emergency situations. He says, "Always be willing to help and do the right thing."
In addition to being a member of Engine Company 325, Firefighter Abdalkwy participates in FDNY initiatives with proby school, recruitment, and fire safety, as well as community events providing CPR training and smoke detectors. He is also a member of the FDNY Phoenix Society, whose mission is to be the cultural bridge between the FDNY, its employees and the Asian communities of NYC.