Battalion Chief Malcolm Moore
Rescue Battalion
Fire Operations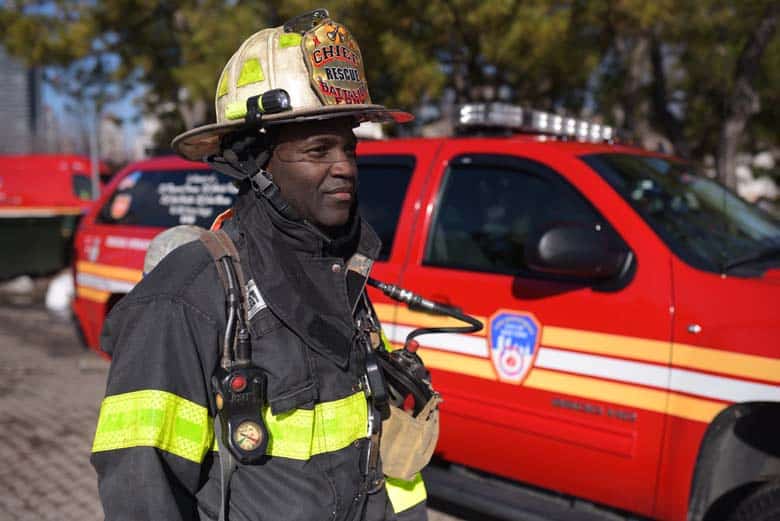 Chief Malcolm Moore is a Battalion Chief of Special Operations Command at Rescue Battalion. He has been at the FDNY for 22 years and has served as Chief Officer for five of them. Chief Moore's team of Rescue Battalion Chiefs has the administrative responsibility for the five Rescue Companies and seven Squads quartered around the city, responsible for supervising structural collapses, construction accidents, confined spaces incidents, and similar operations.
Battalion Chief Moore spent much of his childhood years consumed by a fascination with the Fire Department. Most of his exposure to the Department came from visits to his grandmother's home in Brownsville during an era when fire duty was the highest in the city's history. He was drawn in by the organized chaos and couldn't wait to have an opportunity to be part of it. His first memory of working at FDNY was the excitement of picking up his gear and putting on his helmet and coat for the first time: a dream come true.
The aftermath of 9/11 will always be etched in Battalion Chief Moore's memory, how the membership that stepped up and worked tirelessly at World Trade Center site while rebuilding fire companies that had lost so many members and assuming the emotional responsibility for the families of those members who had sacrificed their lives. The ability to be resilient in the face of devastation solidified strength, tenacity and focus that served Moore well during his entire career.
Hard work and determination, along with the agility and accuracy of quick decision-making is par for the course, says Moore, who thrives on being challenged by the unknown. "Being able to do a great job and provide leadership the unknown," he says, "is a great source of satisfaction and achievement for everyone."
Every time Chief Moore leaves home for work, he is blessed by knowing that his "only mission is to improve the day of someone who will likely be experiencing their worst moment." Anytime he and his team can achieve and bring the deliverance that someone needs —whether on a medical run, fire or other emergency, he knows they have accomplished their mission.