Luz Galarza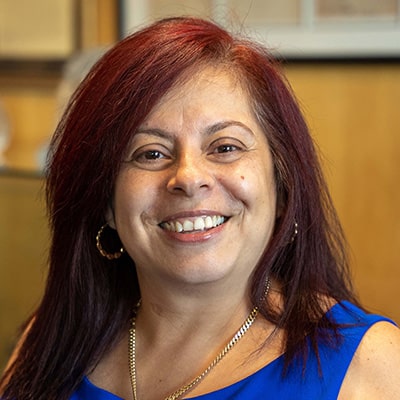 1. What is your name, title and number of years at FDNY? Where are you currently assigned, and what are your work-related responsibilities?
My name is Luis Galarza. I am an administrative assistant customer service liaison in Support Services. I've been working for the Department for 4 years. My tasks and responsibilities here at headquarters include working with a building's management regarding any complaints from our staff about issues with sound, lighting, electrical, plumbing, AC, elevators or any other issues that our building's engineers have to handle. We also support any construction related to cubicles, renovations, getting supplies, engaging architects and managing requests for use of FDNY's fleet of cars.
2. What called you to a life of public service at FDNY?
Prior to joining FDNY, I was working at a law office. I was a personal injury investigative paralegal. It was a good job, but I felt like I wasn't learning anything new. I saw a job posting at ESS and wasn't sure if I would get called for the interview. I went through two rounds and got the call to join Support Services. I had a lot of new programs and processes to learn for this job, but my team accepted me with open arms.
My brain is constantly at work here. There's always a new challenge, new issue or new situation that requires me to problem solve, and as a person who loves to help people, I always strive to find a solution. At times I may be presented with a situation that I don't know about, but I always try to have an answer by the end of the day. I never turn anyone back, sometimes responding even when I'm home.
3. Can you share one of your most memorable moments while working at FDNY?
One of my most memorable moments is a sad one: It happened around the time the pandemic first started, very early in that situation. I was helping to get essential supplies to everyone in the field, both for firefighters and EMS. For example, we frantically called various companies to make sure we had hand sanitizer with the right alcohol and disinfectant levels. While we eventually located supplies and received donations directly to firehouses, the situation was sad because of the toll the pandemic took on our entire staff. Despite this, it was very rewarding to be able to help FDNY and EMS during their time of need.
4. What does "We Are FDNY" mean to you?
"We are FDNY" represents our ability to serve everyone, and it makes me feel proud to be an FDNY employee. We continuously open our arms to those in need. Growing up, I saw firefighters and EMS doing courageous work [in the field], working long hours to help people in distress. I appreciate that even when people and situations aren't going well, we don't give up. We persevere.
5. What is your superpower (best quality or skill)?
I don't know if anyone considers this a superpower, but I never say no. I'm a "people person" who loves to help. Even if I cannot help someone directly, I will find a way to get help for them.
6. How does your role support the public safety mission of the FDNY?
We support the firefighters and the EMS workers as they go about serving New Yorkers with any supplies that'll help and protect themselves from harm. From behind the scenes, we support them as they execute our public safety mission out on the streets.