REVEREND ANN KANSFIELD
Chaplain
Office of the Fire Commissioner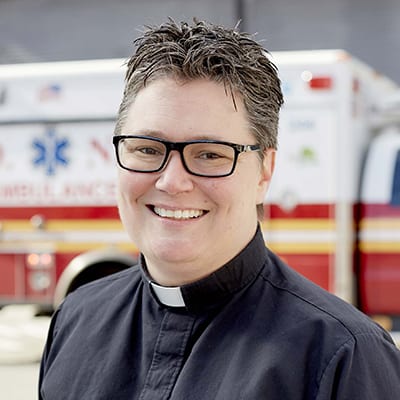 Prior to joining FDNY, Reverend Kansfield was a financial advisor at the World Trade Center. Post September 11, 2001, she had a calling to a life of ministry. She loves working in her dream job at FDNY and likes the fact that no two days are alike.
Trust to Reverend Kansfield means a willingness to rely on a power greater than herself, setting aside her own will for something that is greater directing her. Authenticity is a value that she tries to live out. It requires that we love our selves the way we are, which she believes helps strengthen our relationships with others. She believes that we can best support each other by allowing people to be themselves and appreciating our differences, which make life livelier.
Rev. Kansfield appreciates how the FDNY engages with the community, especially by responding to those who call 911 for assistance. "FDNY is often the answer to prayers," she says. Rev. Ann, as she is fondly called, recalls a time when she was running a soup kitchen and EMTs took care of a client facing a challenging time with the utmost amount of dignity. She is incredibly grateful for the work each and every member at FDNY contributes. It takes a lot of different people coming to the table to solve difficult problems to make the agency successful.