Lieutenant William Patsakos
Ladder 146
Fire Operations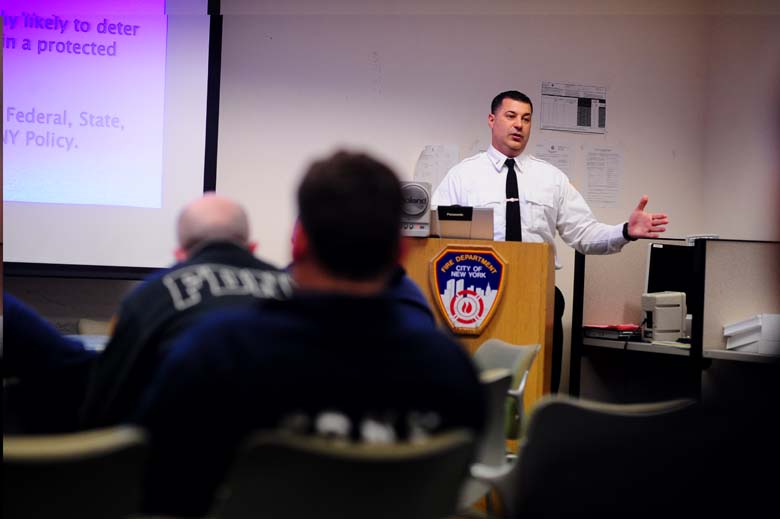 William J. Patsakos is the Lieutenant at Ladder 146 at Fire Operations. He has been with the FDNY for 14 years. Lt. Patsakos has a number of roles and responsibilities in the Department, including service as Medical Unit Leader for the Incident Management Team; Diversity and Inclusion Master Trainer; and EEO Counselor. During 9/11, Lt. Patsakos was a United States Army Officer and Medical Service Corps Officer that responded to the attack on the World Trade Center. He was so impressed with the heroism, bravery and camaraderie that he witnessed, that he became a firefighter.
Lt. Patsakos' first memory of working for the department was his first tour, when he delivered the baby of a pregnant woman after a motorcycle accident. Lt. Patsakos is always moved by the line of duty funerals he attends, witnessing the care and compassion the Department takes to honor, remember, and then stay with the family throughout the years.
His experiences with the Department just continue to build his Faith in ordinary people performing extraordinary acts. "It's team work that matters; no one has to be the smartest or bravest person on his team because success is always shared by every member," said Patsakos.
Patsakos also believes that the "kitchen table" is a constant source of support and an opportunity to build family and friendship, while solving the world's problems, from plumbing and politics to religion and race. In fact, Patsakos says the kitchen table is therapeutic, healing and uplifting firefighters through some of their darkest moments of tragedy and loss.