EMT Melvina Spencer-Johnson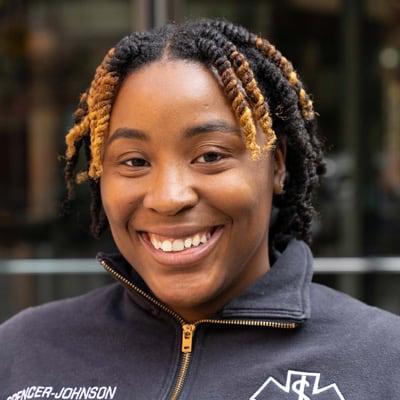 1. What is your name, title and number of years at FDNY?
My name is Melvina Spencer-Johnson. I've been at FDNY for 4 years, and I am in Emergency Medical Dispatch.
2. Where are you currently assigned, and what are your work-related responsibilities?
I am in PSAC1. I receive 911 calls, provide first aid, offer initial assistance, including verifying information for first responders. I listen to incoming calls and make sure that other ARDs (assignment receiving dispatchers) are doing what they're supposed to. I work at "the specialty desk," where I can help folks find their family members if they're having difficulty finding people picked up in an ambulance. I also take notes for the hospital staff, which helps to keep them informed about our units on the street and any patients they may have.
3. What caused you to live for public service at FDNY?
I always wanted to help people and made it a professional goal. I started my EMS journey in 2016 with a private ambulance company. I knew I wanted to be a part of New York City's best and sought to join the FDNY.
4. Can you share one of your most memorable moments while working at FDNY?
There are so many. It is hard to pick one. Recently, I got a call from a panicked father-to-be. His wife was in the process of delivering a baby, and he was freaking out. Immediately, he noted that the baby was actively coming out. As a mom, I knew what the mother was experiencing, and I guided her through the delivery. This was a lot for everyone, especially the mother, to go through without any medical staff. I tried my best to listen and provide support while also handling the necessary communication with our teams, who were on their way. I remember after a short period of time, all I could hear was the baby crying. Everything went well. What made me feel good was to give this mother and father a guiding hand through a very stressful but ultimately happy experience.
5. What does "We Are FDNY" mean to you?
"We Are FDNY" reminds me that I am with the best of the best, and it makes me feel good to be a part of a team that constantly strives to excel.
6. What is your superpower (best quality or skill)?
The positivity I bring to help people on one of their worst days is my superpower.
7. How does your role support the public safety mission of the FDNY?
My role situates me as a person who is frequently there with a person during their first moments of crisis. They're frequently panicking and looking for someone to help, someone to come and aid them in a situation. So, I try my best to keep them calm, as giving them instructions on what to do, or having to make preparations for someone to take them to where they need to go, can be crucial to the outcome of the situation. This is how my role supports our mission of public safety.